Are Kanye and Radiohead Releasing Surprise Albums Before the End of the Year?
Rumor has it both artists have wrapped their sessions. And there's precedent for a shock.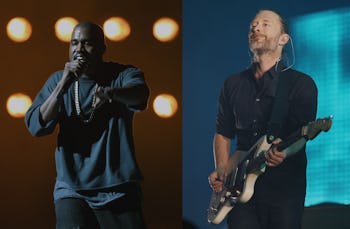 Getty Images
Two of the most popular and critically successful musical acts of our time have new albums in the finishing stages. What are the chances they release them before the end of 2015?
Kanye West
As many have noted, the only thing Kanye has surprise-released this week is his son, Saint. His upcoming record — purportedly and tentatively titled SWISH — is nowhere to be found. And while some bemoan what might end up being another year-plus until its release, West himself said the album is 80 percent done — all the way back in February.
Now, I'm no mathematician but that means that it could be done by now — 10 months later. And since Mr. Kardashian has flat-out said that SWISH is going to be released out of thin air, we're going with a Lloyd Christmas-like so-you're-saying-there's-a-chance optimism. Throw in the fact that Kanye released My Beautiful Dark Twisted Fantasy in late November of 2010 basically just to fuck with year-end lists and critics, and SWISH sounds closer than ever.
Odds: 50-1
Radiohead
In 2007, the gents from Oxfordshire went ahead and had arguably the biggest surprise album release in history with In Rainbows. The group surprised us all once again with King of Limbs in 2011. Really, it would be a surprise if Radiohead didn't surprise with the latest record.
Couple its previous tomfoolery with the fact that, in October, guitarist Jonny Greenwood stated that most of the recording had been done and, well, it could happen. Throw in two new songs that Thom Yorke just played in Paris — "Silent Spring" and "Desert Island Disk" — and you've got a new album that just begs to be placed under the Christmas tree.
But, right, probably not. In either event, 2016 is gonna rule.
Odds: 200-1