Thanks to Reddit, a Lonely Gamer Has 166 'Star Wars: Battlefront Partners'
Not even college newspaper personal ads are free from the omnipresence of the world wide web. 
by Sam Blum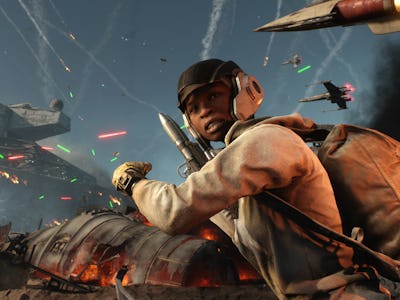 EA Star Wars
One of the best things about Reddit — hear us out, Reddit haters — is its ability for a large number of people to swarm around an idea and do something nice, no matter how small. Enter the case of Brody Taylor.
Taylor, a sophomore at Louisiana State University, has seen a massive response to a personal ad he placed in a print newspaper looking for partners with which to play Star Wars Battlefront, all due to a photo of his personal ad blowing up on Reddit earlier this month. Taylor now has 166 prospective buddies ready to wage war.
"It was a legitimate attempt, as strange as it may seem," at finding some like-minded gamers, Taylor says of his classified ad, which was published Thursday, December 3 in the LSU student newspaper, LSU Reveille.
Taylor created an email account especially for the ad, but figured he was kind of shouting down a void: No one had really responded to similar requests he posted online, but when some feisty Redditor — he thinks it was likely a classmate — posted a photo of the newspaper ad, it was internet dynamite, sparking over 5,000 upvotes and nearly 1 million views on Imgur.
It is a lonely gamer's clarion call:
"In need of a partner to play the new STAR WARS BATTLEFRONT for PC with. I do not know anyone who has it for PC, so I am left wandering the planets in a galaxy far far away with strangers. Just shoot me an email at battlefrontfriend@yahoo.com and we can play together!"
Taylor says he's in the midst of his final exams before the holiday break, but that hasn't stopped him from checking his email for responses.
He tells Inverse that he woke up today to 166 invitations to play Battlefront, but had no idea where they were coming from — at first.
"Some of the emails were sending me these links to Reddit and Imgur and I was like, 'I don't remember posting on Reddit, where are these coming from?'"
"So I clicked on the link and it took me to Imgur, and I saw that it had the picture of the ad. The picture on Imgur had almost a million views and had like 5,000 upvotes on Reddit," he says.
Taylor says that predictably, some of the emails were totally weird.
"I had one email that asked me to join a dating gamer website. They were like 'we'll give you a free year subscription to get you on our website,' and some people are like 'I want to stream with you live on Youtube,'" Taylor says.
While the newfound gaming celebrity will have to focus on finishing finals before the week is over, Taylor says he won't be hurting for Battlefront companionship in the years to come.
"I think that EA should give me some kind of sponsorship now," he says.
We hope they do.