More Clues About Rey Offered in New 'Star Wars: Force Awakens' Clip
The mysterious new lead 'Star Wars' character may not seem like much, but she's got it where it counts.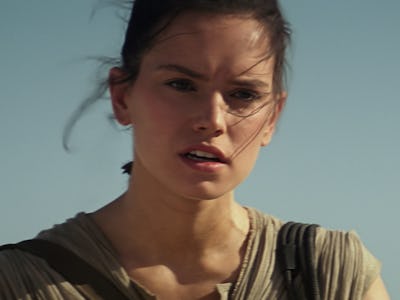 StarWars.com
Who is Rey? Well, she's the character that newcomer Daisy Ridley plays in Star Wars: The Force Awakens — as if you didn't know that already. Nearly everything else about her is being kept under wraps until audiences the world over get to experience the movie.
But a new Rey-centric featurette has been released that fans can pour over, even if it means we only get barely any new information. The Force Awakens is less than two weeks away, and we'll take anything we can get.
Much of what is said in the minute-long clip — stuff like the fact that Rey is a scavenger on the new desert planet of Jakku — has been gleaned from a lot of the previous trailers.
A new clip offers mostly split-second glances of her spelunking into the downed Star Destroyer. There's a little speculation on whether this sequence may or may not start off the new movie.
Aside from those quick looks at Rey in the innards of the ship, there's also some great personal points made by Ridley herself, who was plucked from relative obscurity to be the ostensible lead character in one of the biggest franchises of all time.
"I hope that women — and men — all across the world can see something they relate to in Rey," Ridley says. She then vaguely but pointedly explains that Rey is "a strong woman who does her own thing and has her own story."
Does being plucked from obscurity, much like Mark Hamill was by George Lucas back in 1977, mean we can infer some familial ties between the two onscreen characters? That is a possibility, but the uber Star Wars geeks at Slashfilm have pointed out a long-held belief among fans. Most actors with British accents in the original trilogy were the villainous Imperial officers. Rey has a British accent, but she's the heroic lead.
Does this mean she may have switched sides to become a good guy after some not-so-nice parentage? Well, for one Darth Vader — the most evil guy in the galaxy — sported an American accent while Obi-Wan had a British accent, so what do we know. We'll get to see it all play out when The Force Awakens opens on December 18.