Pentagon Welcomes Women to All Front-Line Combat Positions, No Exceptions
If they're fit enough for the position, there's no reason to keep them out.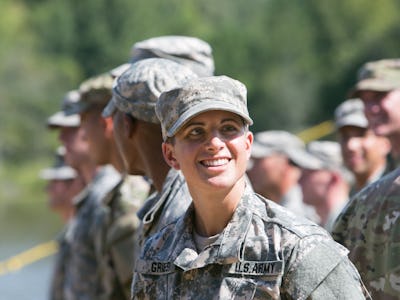 Getty
The Pentagon is opening all combat roles to women, opening the door for women to serve in front-line ground combat positions and elite units like the Navy SEALS teams.
The announcement follows a 2013 mandate that military either integrate women into all combat positions by 2016 or justify their exemption.
The National Women's Law Center praised the announcement:
The Marine Corps. requested some exemptions but were overruled as the Pentagon determined the military should operate under common standards.
Defense Secretary Ash Carter said Thursday that women in the military can now be assigned to any role they're fit enough to perform, but there will be no quotas on their numbers.
"There will be no exceptions," Carter said at a news conference.
Nancy Duff Campbell, co-president of the National Women's Law Center, said in a statement that "we applaud today's announcement that knocks down the last remaining official barrier to women's military service and ensures the full integration of women into all military jobs, positions and units.
"Thousands of women will now have the opportunity to be all that they can be and our nation's military will be the stronger for it. Hip, hip, hooray!"