Everything You Need to Know About Today's Cygnus Spacecraft Launch to the ISS
Watch it live at 5:55 p.m. Eastern time.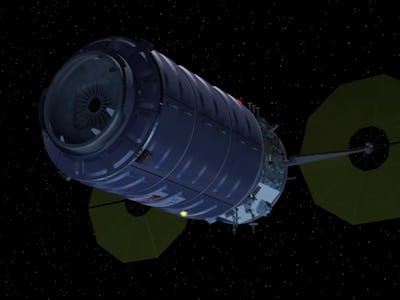 Orbital ATK
Today, the Cygnus spacecraft will be carried by an Atlas V rocket from Cape Canaveral Air Force Station Space Launch Complex 41, toward the International Space Station. Here's what you need to know about today's launch:
Why is this mission happening?
The Cygnus is carrying 7,300 pounds of "science and research, crew supplies and vehicle hardware" which will be used in dozens of the approximately 250 science and research investigations that will occur during Expeditions 45 and 46 of the ISS.
What are those experiments, exactly?
According to NASA, the supplies "will offer a new life science facility that will support studies on cell cultures, bacteria and other microorganisms." Additionally, there will be "experiments that will study the behavior of gases and liquids, clarify the thermo-physical properties of molten steel, and evaluate flame-resistant textiles."
Will any supplies be delivered to the astronauts?
Yup: Cygnus will deliver replacement items including a set of Microsoft HoloLens devices for use in NASA's Sidekick project. For more on Project Sidekick, watch this:
Also, what can you tell me about jetpacks?
Among the supplies is a safety jet pack astronauts wear during spacewalks known as SAFER.
When will the Cygnus spacecraft arrive at the ISS?
Around 5:30 a.m. on Sunday, December 6, NASA crew members Kjell Lindgren and Scott Kelly will use the ISS's Canadarm2 robotic arm to grab Cygnus. Fun fact: It will be the first cargo ship to be berthed to the Earth-facing port on the ISS's Unity module. It'll all be on NASA TV starting at 4 a.m. Coverage of Cygnus' installation will begin at 7:15 a.m.
When will the Cygnus spacecraft return back to earth?
After more than a month of being attached to the ISS, Cygnus will begin its destructive re-entry into Earth's atmosphere in January, disposing of about 3,000 pounds of trash.
Destructive Re-entry? Who owns the Cygnus?
The Cygnus is owned by private aerospace company Orbital ATK. It's vying for a $3.1 billion contract over seven years to be the official resupplier for NASA — the space agency is expected to announce who will get the contract by the end of January. Also in the hunt is Elon Musk's SpaceX.
When and where can I watch it?
Coverage begins at 4:30 p.m. Eastern time on NASA TV. "Cygnus is set to lift off on the Atlas V at 5:55 p.m., the beginning of a 30-minute launch window."
What if it all goes wrong?
This is a good question to ask, given the fate of the Progress M-27M spacecraft back in April, which was also on its way to the ISS. (Another Progress craft made it safely to the ISS in July.) About this launch, though: The rocket carrying the Cygnus is an upgraded, more powerful one from United Launch Alliance, the partnership company of Boeing and Lockheed Martin. The Cygnus spacecraft is receiving an upgrade: "The cargo freighter now features a greater payload capacity, new UltraFlex solar arrays and new fuel tanks. Cygnus' pressurized cargo module has been extended and increases the spacecraft's interior volume capacity by 25 percent, enabling more cargo to be delivered with each mission."