'Arrow/ Flash' Crossover Introduces Twists To Come
Hints toward the future (no pun intended) of Barry and Oliver come into play.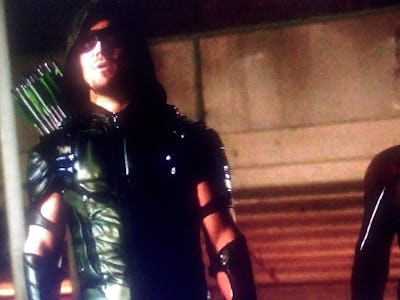 Arrow (CW)
The Flash half of the December 2015 Flash/ Arrow crossover on Tuesday introduced new-to-TV DC characters—and in Wednesday's Arrow half we received tips on new plot lines for both the shows—as well as a nod to Legends of Tomorrow, set to launch on the CW in 2016.
Here's some likely plot-crackers we'll be learning more about down the road.
The Flash seeing double?
Flash fans know that when he sees a "ghost" of himself running nearby, there's a time travel adventure coming soon.
Oliver had a feeling about this kid.
Turns out, it's a boy! The Arrow has a son.
Now we know why Barry time traveled. Vandal Savage destroys Central City with his magic staff—we even see Oliver get ashed. However, Flash outruns the blast, ending up a day back in the past.
Oliver convinces Barry changing the future is a good idea. Barry warns him time travel always comes with bad consequences (like tearing holes in the fabric of the universe bad) but Barry gives in, and they upgrade their attack plans accordingly.
This time around, the boys blow up Savage! (That's him, the pile of dirt on the floor).
But does the aforementioned time traveling mess anything up? Everything seems OK as the show ends with a warm Oliver/ Felicity cuddle.
…and Malcolm Merlyn collecting Vandal Savage's ashes—a good hint he'll be back for DC's Legends of Tomorrow, slated to premiere on January 21, 2016.