At International Robot Exhibition, HRP-2 Kai Shows Off Fire Rescue Techniques
Unveiled at the International Robot Exhibition is a human-sized robot that might become the first responder of the future. 
by Sam Blum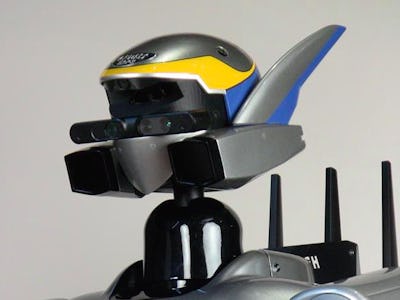 The semi-annual International Robot Exhibition began today in Tokyo, and that means demonstrations from a flurry of ultra-modern machines intended to dazzle audiences. Many of the robots — creations from the 446 firms in attendance this year — are primed for use as the Japanese government's first responders if and when a natural disaster strikes.
A demonstration from NEDO, one of Japan's largest research and development organizations, saw a human-sized robot, called HRP-2 Kai, simulate a fire-response sequence by turning off a sprinkler valve.
The robot walked on a narrow plank for dramatic effect:
The HRP-2 has been around for a while (more than 13 years), but has been updated to handle disaster response. Here's a video from 2009 that shows off its stair-climbing ability:
The main premise of this year's show is disaster relief and healthcare. Japan is no stranger to the darker side of nature — the country is still recovering from a magnitude 9.0 earthquake that killed 15,000 people in 2011 — and its precarious position among some of the world's more volatile fault lines mean that of the 1,500 annual earthquakes in the country, the potential for catastrophe is ever-present.
Fumio Kanehiro, a researcher at the National Institute of Advanced Industrial Science and Technology, told reporters that the particular robot is still in its nascent stage at this point:
"HRP-2 Kai is now recognizing debris and thinking with a sensor on its head about where to put its foot," he said.