How Has 'The Jerry Springer' Show Survived 25 Years?
In a time when even 'Playboy' is toning things down, the continued success of America's favorite trashy talk show is impressive.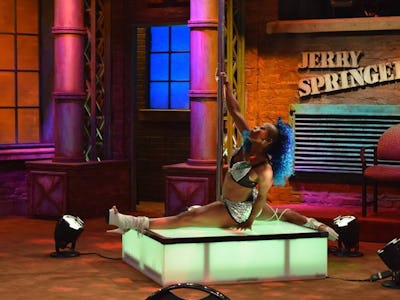 NBC Universal
Everyone involved in live tapings of The Jerry Springer Show understands what's expected of them. Guests nonchalantly remove their shoes while Jerry addresses each of them, so they're more prepared to lunge at their partners once they've been introduced to the crowd. The audience is instructed by producers to respond as loudly as they can to everything that happens on the soundstage. Audience members are encouraged to boo cheating husbands and make "aw" sounds whenever a photo of a baby appears on the screen. These reactions should be huge, the producer tells his audience. "You react big, we get it on camera. You all want to be on fucking television, right?" In response, the crowd goes nuts.
Jerry Springer has been the king of daytime shock television since it first premiered in the early 90s, and his program began celebrating its twenty-fifth year this September. The film studio in Stamford, CT, which also houses The Maury Show and the Jerry-Springer spin-off The Steve Wilkos Show, is decked out in silver and black ads proclaiming Jerry's anniversary.
Attending a full day of taping of The Jerry Springer Show means hearing the host's name uttered over and over again, sometimes by stone-faced production assistants seating audience members, and sometimes by young women sitting alone on Springer's stage. These girls seem to see Springer as a helpful hand in their private lives. They don't blame him for egging on the guests, and they don't even seem to see Springers' team of bodyguards. They are motivated by the same urge that seems to fuel Springer's audience: to simply be, by any means necessary, on television.
Springer himself is an illustration of what more than two decades spent watching hundreds of young strippers dance for a crowd chanting "Jerry, Jerry…" will do to a man. Gone are the days when Springer entered his set by sliding down a pole; gone are the episodes where he might berate an anti-semitic guest to his audience's approval. Instead, Springer mills around in the studio audience between segments, humming to himself — but still into his mic — and telling the kind of clean jokes you'd hear at a family gathering. When one of his female guests falters, apparently a little nervous when describing her cheating boyfriend, he tells her not to worry, that "Uncle Jerry" is here. The crowd loves him for it.
He does continue to deliver his serious, heart-felt "Final Thought" segment at the end of each episode, urging his viewers to be kind and honest with one another, but the effect is dampened when one considers the line of guests sitting behind him on stage. Some are covered in champagne, and others are tensely holding hands with their partners, who had just, minutes ago, been revealed as cheaters. There are no real criminals on The Jerry Springer Show, no abuse, and no assaults aside from the staged fights which are just-barely impeded by bodyguards. The world is bawdy, not pornographic. Playful and naughty, not obscene. When an audience member asks two of the female guests to show him their "perfect, perfect breast-es-ses", Springer watches, unruffled, as his guests oblige. He says, "thank you ladies," and the audience chants his name again.
What happens on Springer's stage, on occasion, resembles soft-core porn, but only on some episodes, so it's a wonder that the program has survived so long. In 2013, the Girls Gone Wild franchise filed for bankruptcy. In 2015, Playboy announced it would no longer be running nude photos at all. Its CEO Scott Flanders said the battle for female nudity had been won, that viewers are now "one click away from every sex act imaginable for free." Why are daytime audiences still tuning into Jerry Springer, then, if not to see "perfect, perfect breast-es-ses"? At this point, he's even outlasted Oprah!
For a program based in an early-90s sense of sensuality and provocative content, The Jerry Springer Show has only flourished in the last several years. When last reported, an average of 3 million viewers watched The Jerry Springer Show daily. The show's most popular video on YouTube, entitled "You Slept with My Stripper Sister!" has more than 4 million views.
The audience, which files into the studio just before 10 a.m. on filming days, is surprisingly made up of fresh-faced young people. The studio's hype-man encourages everyone to follow him on Instagram, and hands out Jerry Springer du-rags while engaging the audience in wacky contests. Producers announce the presence of groups from local universities, and the students stand to receive quick rounds of applause which are punctuated by announcements like "take a seat, everyone, we're going to bring out the bath-tub and strawberries."
The first few moments of a taping feel like attending an awkward pep rally. Once Springer takes the stage, it's clear there's no fooling around. The audience reacts mechanically to each girl who twerks and crawls across the stage, standing to its feet when a man admits to sleeping with each twerking girl's sister or cousin. There is a distinct sense of having seen this all before.
Though it can't quite claim to be at the front-lines of shocking content anymore, The Jerry Springer Show has been undoubtedly consistent in churning out a well-tested formula. Viewers are never disappointed, because Springer never throws them a curve ball. Every guest who thinks something's fishy is being lied to, and every cheating spouse wants forgiveness. The vibe at each taping doesn't feel spontaneous, but there's something joyous about the promise that one's overreaction to an exaggerated story might land all the players on television. No one on The Jerry Springer Show is chasing fame, really, but instead the audience and guests seek momentary recognition from others that yes, they're funny or sexy or loud, and yes, their boyfriend is a loser, and yes, Uncle Jerry thinks it's going to be okay.
While the show's is no longer shocking, audiences will keep returning to The Jerry Springer Show for something else; comfort. Jerry Springer changed it what it meant to become a "household name", and though his content doesn't push boundaries anymore, it flourishes within the boundaries it set for itself back in the 90s. Long after last stripper pole is packed away, "Jerry! Jerry!" will still bound around our brains.