This New Campaign Puts Racist Facebook Comments on Local Billboards
A civil rights group in Brazil promises to put up the billboards in the offender's neighborhood.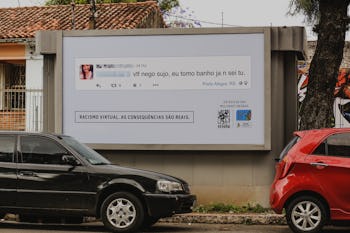 Virtual Racism, Real Consequences
It's a truth universally accepted that online anonymity is to racism as cow manure is to mushrooms, fueling all their impotent fury to blossom in the dark. Sick of this as anyone, a Brazilian civil rights group is (somewhat) exposing the people behind some of the worst social media offenses by putting racist comments on billboards in the author's neighborhoods.
The "Virtual Racism, Real Consequences" campaign is backed by Criola, a civil rights organization of Afro-Brazilian women. The group launched the campaign after racist comments were posted on a Facebook pic of Journo Nacional broadcaster Maria Julia Coutinho.
The campaign works by collecting racist comments on Facebook and Twitter, then using geolocation tools to narrow down the poster's residence to put a billboard nearby.
While the billboards are scrubbed of identifying information like names and pictures, whoever wrote the comment will presumably see it posted to their neighbors and, presumably, at least a couple of friends.
The group explains its motivations:
We wanted to provoke a reflection. Does a comment on the internet cause less damage than a direct offense?
For those who comment, it may be. But for those who suffer it, the prejudice is the same.
So, in partnership with billboard media companies, we put on the streets real racist comments posted on Facebook and Twitter, near the houses of the offenders. We omitted names and faces of the authors — we had no intention of exposing them.
We just wanted to raise awareness and start a discussion, in order to make people think about the consequences before posting this kind of comments on the internet. Because, after all, the worst enemy of racism is silence.