Spiked Baseball Bats Installed Around San Francisco May Be a Threat to Tech
It seems like something the Joker would do, but may be a commentary on the city's growing economic divide.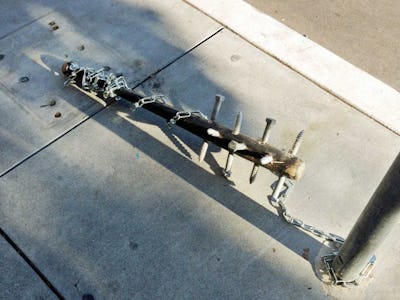 Approximately 30 baseball bats with nails hammered through them have been left chained to street signs around San Francisco. No one knows who's responsible for this act of macabre generosity, if it's a protest, if it's the most poorly considered bit of branding in the modern era, or even if it's over. What the spiked bats appear to be, though, is a reminder that class warfare can get ugly in a non-rhetorical sense.
The bats began appearing on Thanksgiving morning chained toposts, parking meters, and newspaper racks. Some 27 were counted by the next day and a few more popped up over the weekend.
Police are currently looking for the batman or batwoman responsible. If found, the culprit would likely face charges as the bats have been modified into deadly weapons, albeit deadly weapons one can only use while standing next to a post. Multiple weapons have been discovered at Crocker-Amazon, Lower Haight, and outside Zeitgeist in Valencia.
There is something both threatening and hilarious about the entire endeavor. A spiked baseball bat is such an over-the-top weapon that they are hard to imagine existing outside of comic books and Fallout video games. It is worth reiterating that the bats are tethered. This seems to indicate that the prankster, villain, or activist at work wants them to stay where they are and doesn't, in fact, intend to arm anyone in a meaningful way.
Is this an art project gone awry or is a real-world Joker pushing the homeless to rise up against a classist hierarchy? Well, the timing seems to point toward the latter. The bat boom on Black Friday, the kickoff to the season of conspicuous consumption, likely isn't coincidental. But maybe it is. We really don't know.
Investigators ask anyone with more information to call the anonymous tip line at (415) 575-4444 or text tips to TIP41, beginning the message with "SFPD."