The 2015 Guide to App Gifts That Are Also Thoughtful Gifts
The app store doesn't have to be the shop of last resort this holiday.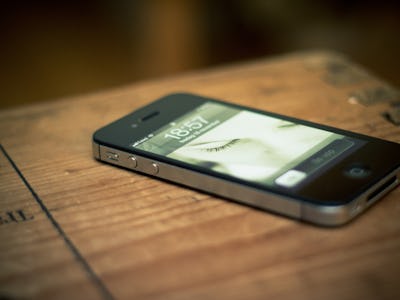 Johan Larson/Flickr.com
There's nothing quite like the sudden onset of the holiday season to strike panic in the heart of the under-organized. Although I promise myself every year that I'll plan ahead and not end up as one of the poor schmucks scavenging for gifts in the detritus left in JC Penney on December 23, the holidays always seem to sneak up on me like a monster in a trash compactor.
Sorry. Obligatory Star Wars reference. 'Tis the season.
In case you're really in a bind, Inverse has put together a holiday gift guide exclusively for apps, so you can shop from home, at work, on the train, wherever. No need to plan ahead. You can even send the gift directly to its recipient. For iPhone follow the instructions at Apple's website. Unfortunately, you can only send Google Play credit or Play music subscriptions.
For Your Friends
Enlight
$3.99
For the iPhone photographer in your life, Enlight combines preset filters with photo editing tools so they can "conquer Instagram." It comes with a clone tool, too, in case of itinerant photobombers.
Bean
$0.99
Everyone has that one friend who keeps track of everything. Bean is a light-weight counting app that lets users keep running tallies of up to nine custom categories. Next time you see your bean-counting friend, make sure to ask whether they've "bean" busy. Consider
Jollygrams
$1.99
Who doesn't love wordplay? Give the gift of tricky word games with Jollygrams. The puzzles in Jollygrams are all of the "sound like" variety. So you get puzzles like "Hip Moe Hot Uh Puss" for "Hippopotamus," and so on.
For Your Significant Other
Cook Smarts
$8.99 a month
Many a relationship hath run aground on the rocks of lame food. Get out in front of that disaster by buying yourself a couple's (or triple's — no judgment) gift. Subscribing to Cook Smarts gets you weekly meal plans plus recipes plus cooking guidance. Cook Smarts has also put together a ton of graphics and guides for the kitchen-challenged. (I know it's not technically an app — poetic license?)
Soothe/Zeel
Free
Did someone say on-demand massage? While you can't give the apps themselves as a gift, Soothe and Zeel let you order massages from your phone. They both offer couples massages, and Zeel offers a number of gift packages.
For Your Parents
CARROT Weather
$3.99
Now your dad will finally have someone who shares his sense of humor. CARROT Weather is a weather app featuring the irreverent voice of CARROT, the robot meteorologist. Your dad will love snarky forecasts like this one: "Bask in the warmth of the partly-obscured sun!"
Pocket Casts
$5.99
Introduce your parents to the world of podcasts. Pocket Casts is a cross-platform podcast manager — in the lingo that's a "podcatcher" — so no matter what mobile device your parental units use, they'll be contributing to the demise of radio before you know it. (Just kidding, NPR! I hope.)
Lux
$3.80
The worst part about technology isn't the way it eats away at everything a society holds dear — it's the eye strain. Lux gets rid of that problem by dynamically adjusting screen brightness and temperature. Give your parents one less thing to worry about.
For Your Kids
Babbel
$8.95 a month
Learning a new language can be stressful, but that doesn't mean your kids aren't up to the challenge. Babbel offers 13 languages at monthly subscription. For the enthusiastic young scholar, a second language is a great place to start. Sure, the price is a little steep, but it's nothing compared to Rosetta Stone or lessons.
Plants vs. Zombies
$0.99
Once a classic, always a classic. Plants vs. Zombies shuffled onto the scene many years ago in 2009, but it maintains a robust presence in the mobile market. Distract your kids. Enjoy the holidays.