Psy's New Videos Reveal All the Psy You Could Ever Want or Need
His two new songs are "Daddy" and "Napal Baji."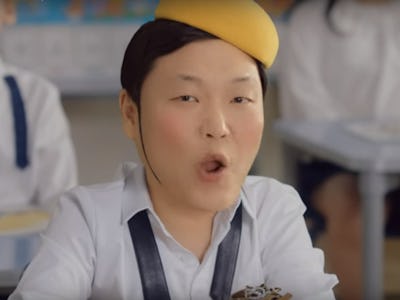 America's initial experience with Psy — the Korean rapper who scored a mega-viral hit with "Gangnam Style" in 2012 — fell short of the global domination some had banked upon. Now he's back with a pair of new singles, "Daddy" — which features CL of 2NE1 fame — and the more disco-flavored "Napal Baji."
Watch these videos below, lest the zeitgeist leave you behind.
Neither video goes to the lengths of the GIF barrage of "Gangnam Style," but maybe that's good? I don't even know anymore. Via a press release, Psy stated "Daddy" was completed in March last year. Seven seasons have gone by and I'm not even Beethoven. I've made many changes and put in a lot of thought into it." Maybe this attempt for global ubiquity will go a little smoother.