Google's Project Loon Possibly Launches in Nevada
The mighty tech company is doing something in the desert with balloons, that's for sure.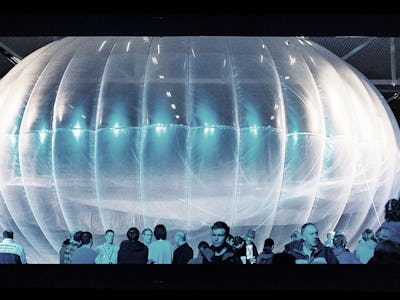 I used a nikon | Flickr Creative Commons
Despite what seems to be a dedicated request for secrecy, it appears Google is going ahead with more work on its Project Loon internet-granting balloon efforts, this time over American soil in the northern Nevada desert.
Project Loon is a mission Google has previously publicized, using solar-powered balloons floated in the stratosphere to boost LTE service coverage in under-covered regions and desolate areas. The last Loon activities were held over New Zealand:
The possibility that Google is doing Loon testing over remote portions of the U.S.A. isn't immediately obvious, especially when looking at the FCC paperwork published Tuesday. The information shared is in accordance with the Freedom of Information Act (5 U.S.C. § 552), even though much of what's exactly being done by Google has been redacted. The opening paragraph includes a statement that "hereby requests that certain information provided in its above-referenced Experimental Radio Service License (Experimental License) be treated as confidential and not subject to public inspection. The designated information constitutes confidential and proprietary information that, if subject to public disclosure, would cause significant commercial, economic, and competitive harm."
One must scan through the heavily censored file to find more reasons that address a requested need for privacy on whatever Google's working toward. Thirteen pages in, explanations made include:
"The services and technologies that are the subject of this Experimental License have not yet been fully developed but are expected to lead to material developments in markets subject to competition from multiple U.S. and non-U.S. third parties…The technology under development is highly sensitive and confidential in nature. The release of such information would provide valuable insight into Google's technology innovations and potential business plans and strategies. Public disclosure would jeopardize the value of the technology under examination by enabling others to utilize Google's information to develop similar products in a similar time frame."
However, a hint that this work is indeed Loon related arrived in the public transcripts taken from an August 2014 meeting of the Winnemucca City Council.
Winnemucca, Nevada lies approximately halfway from Salt Lake City and San Francisco. The area does have an internet provider in AT&T, so it's served—but in the city's August 5, 2014 meeting minutes, it was recorded that City Attorney Kent Maher presented a draft license agreement to allow Google to use a portion of an airport for "a temporary balloon launching facility."
PC World offered in an April 2014 article that although Google declined comment for the article concerning its activities in the Nevada desert, "a local official confirmed they are related to Project Loon, and government filings point to several recent balloon launches."
Google has yet to publically state anything concerning its activities on this matter.