Guest Celebrities Star on 'Empire:' "Sinned Against"
One guest gets to sing, another gets to look a little sickly.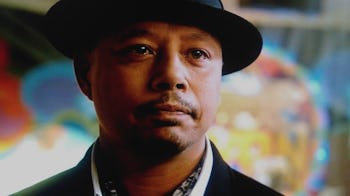 Empire (FOX)
Fox's 'Empire' is the worst, best, most-watchable show on television—and the latest episode featured some very recognizable guest stars. Here's who came by to join in on the Empire-ness…
Singer Alicia Keys appeared as (also a singer) Skye Summers—and she croons like an angel for Jamal:
Rosie O'Donnell (What? Yup—ROSIE) appears as Pepper, an ex-con and friend of Cookie. She doesn't sing, and also was apparently told to go for a natural look.
Surprise! There was a THIRD guest star: Lee Daniels. In the real world he's an actor, director, writer, and producer (with Empire among his projects)—and in the Empire universe he's also a director, who happens to show no fear when Lucious tries to boss him around.
(It almost looks as if he's giving Lucious the finger. Boom!)