Drones Will Monitor Shark Attacks in Eastern Australia 
Shark attacks can be unpredictable, but using drones on the beach might help less Australians get mauled. 
by Sam Blum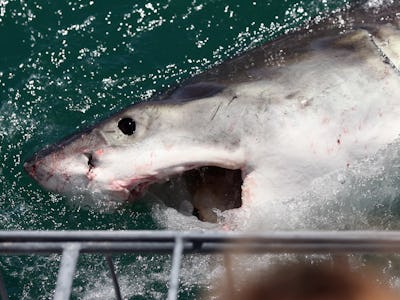 Getty
Government officials in Australia are hopeful an experiment using drones to track sharks will help stave off attacks by nature's perfect killing machines the unpredictable creatures.
According to a report by the Australian Broadcasting Corporation, the drones will feed aerial images of sharks in the water back to their operators, who will then plot GPS coordinates of the sharks. The drones will be part of a series of potential safety measures, including underwater barriers and helicopters meant to surveil waters for the elusive predators.
To get a sense of how easy it is to spot sharks from above, and how they're nearly invisible in the water, watch this drone footage of a paddeboarder floating above a shark in California.
"There is no easy way to reduce risks for swimmers and surfers," says Niall Blair, minister for primary industries for the state of New South Wales.
According to a report compiled by Toronga, an Australian conservation society, 33 unprovoked shark attacks have occurred in the country in 2015, and 14 of those incidents occurred in New South Wales.
The call for more effective surveillance of sharks on Australian beaches also comes after a shark attacked Japanese surfer Tadashi Nakahara, who died after being mauled in February 2015.
Drones aren't the only tool being used to monitor sharks, however. Officials will also be alerted to sharks via a "smart" drum line: A large, floating barrel attached to two lines submerged in water. One line uses baited fishing hooks to trap sharks, while the other provides an anchor. The "smart" version of the drum line will employ a GPS, which is used to alert officials as to a trapped shark's exact location. Sharks caught by the smart drum line will be properly tagged and released into a different area, far away from beach-goers.
This isn't the first time that residents of New South Wales have seen a technological approach to tackling a scourge of shark attacks: Real-time shark tracking apps, which use a combination of geo-tagging and sonar technology, have been developed and implemented in Australia, as well as across the world.
One such shark tracking service, Ocearch, provides a worldwide map on its website, updated in real-time:
Speaking in September, Blair said of the Australian shark tracking apps, and this new technological approach: "We are leaving no stone unturned to make sure we look at new and innovative ways to protect our beaches."