'Destiny' Announces Refer-a-Friend Program
Recruit friends and gain exclusive rewards.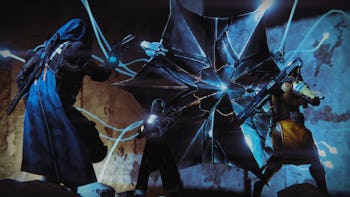 Activision
Today, Bungie announced their refer-a-friend program for Destiny — filled with rewards for both players in the form of exclusive weapons, emotes, and extras.
In order to participate in the refer a friend program, you must have a new player purchase a copy of Destiny: The Taken King and then create a link for them on Bungie.net within your own account. After following the link, the new player may use it to connect their Bungie account with yours, and then the two of you may start the quest 'A Tale of Two Guardians' to earn your rewards by talking to the Speaker at the Tower.
These rewards include a set of legendary emotes, the 'High Five' and 'Duo Dance', as well as a legendary sparrow, sword, shader, and emblem — which are all exclusive to the program.
The rewards all look great and fit perfectly with the cooperative nature of Destiny, but it's frustrating to see them unattainable by veteran players who have been playing the game since launch. This program only works with new players, meaning that unlike previous refer-a-friend campaigns we've seen in other games (such as World of Warcraft's program), you cannot bring friends back to Destiny who haven't played for a few months in order to get the rewards from the promotion.
That being said, it's a great deal for those new to Destiny: The Taken King entirely — especially considering you'll be receiving an XP boost for leveling with your friend. So if you're new to the game, make sure to find a friend and take advantage of Bungie's latest promotion.