Tiny Houses Are Taking Over the World, But Will They Solve Our Eco-Design Issues?
'Tiny House World' premieres on FYI this weekend.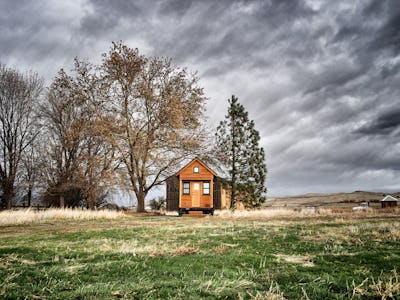 Tammy Strobel/Flickr
"It feels like a little cocoon." So says the teaser trailer for FYI's latest tiny house-inspired TV show, Tiny House World. The program marks a tiny takeover at the network, joining Tiny House Nation and Tiny House Hunting.
Tiny House World follows in the itty-bitty footsteps of its predecessors and chronicles the triumphs and plights of people trying out what it's like to live with less. So why are there three shows about tiny houses on FYI? There are plenty of people in the U.S. trying their hand at tiny living, but it turns out that the trend is also sweeping across the world in cities like Paris, Sydney, and Dublin.
The Tiny House World trailer asserts: "It's all about going tiny." But should we really be all about going tiny?
We asked Kristina Hill, an associate professor at UC Berkeley's College of Environmental Design, if she thinks the boom in tiny houses could be a viable answer for downsizing home sizes while creating less of an impact on the environment.
"Yes, if they are movable," says Hill. "We need flexibility in where we put new housing, so I think that could help."
However, Hill stresses that this growing trend isn't the end-all-be-all solution to solving our housing problem. In fact, the easiest solution might already be here. "Even more important, we all need to reduce our energy and water use in existing structures," says Hill "There are lots more existing buildings than new tiny houses!"
She notes there has actually been an influx of populations into urban areas, which has been expensive for everyone — from the residents to the actual cities. (Just look at the ridiculous housing prices densely populated urban centers like New York and San Francisco.)
"As more wealthy, educated people move to cities — which has been a trend since the 1980's — we need to capture the re-development money that is being spent to help pay for infrastructure (everything from street trees for shade during heat waves to canals and wetlands to help manage coastal flooding). If we don't capture some of that money as it is spent, we won't have public money to adapt later, and many of today's popular urban areas will not be able to thrive," warns Hill.
There you have it: While it looks like a total dream to drop everything and go all Walden Pond with a tiny house in the middle of nowhere, that might not be the most eco-friendly solution to our current housing and environmental problems. Good thing we can just watch Tiny House World from the comfort of our apartments in the big city and read more about how eco-design will impact our next-generation cities. Hint: It's not looking good for Miami.
Tiny House World premieres on FYI on Saturday, November 21 at 10 p.m. EST.