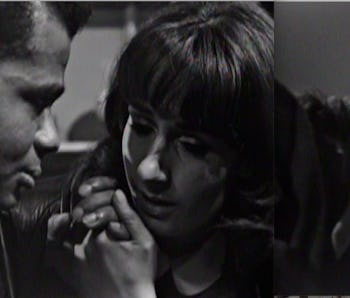 Culture
BFI Discovers First-Known Interracial Kiss on TV, and It Ain't 'Star Trek'
The kiss in question predates Kirk and Uhura's groundbreaking American TV smooch by six years. 
BFI
Thanks to the British Film Institute, Star Trek fans will be forced to check their record about pioneering racial progressivism. While prepping for an upcoming event, the BFI's TV programmer, Marcus Prince, stumbled upon a play broadcast in Britain in June 1962 entitled You In Your Small Corner, which features the earliest known example of an interracial kiss on TV.
Over the years many thought that distinction belonged to the kiss between William Shatner's Captain Kirk and Nichelle Nicols' Lieutenant Uhura on a 1968 episode of Star Trek. While that significant moment still holds for American TV, an episode of a British soap opera called called Emergency Ward 10 starring actors Joan Hooley and John White featured the first known televised interracial kiss in 1964, until the BFI's recent discovery.
You In Your Small Corner was broadcast as part of British network ITV's Granada Play of the Week. It chronicled a young middle-class Jamaican man, played by actor Lloyd Reckord, who travels to Cambridge to enroll for an undergraduate degree. Eventually he finds love with a white factory-worker girlfriend, played by Elizabeth MacLennan. The broadcast featured the pair kissing, and also had a post-sex scene, which was unheard-of on American screens at the time. According to a post on the BFI's website, the play was "a sophisticated dissection of the subtleties and difficulties which affect the couple across race and class lines."
Heather Stewart, Creative Director of the BFI, said in a statement:
"This groundbreaking TV play is such an important rediscovery. A document of British social history, it demonstrates the role of progressive television drama as a reflection of our society and underlines the vital work of the BFI National Archive as the guardian of our national memory. Fifty years on, diverse on-screen representation is still an urgent issue and we must continue as an industry to effect much-needed change."
Those interested can watch the clip when it airs during the BFI's panel on "Race and Romance on TV," or head over to the BFI's site.