It Would Be Pretty Hard for 'Vinyl' to Be Terrible
Yes, Martin Scorsese and Terence Winter's newest HBO project looks like a risky business. But there's a lot of precedent for success .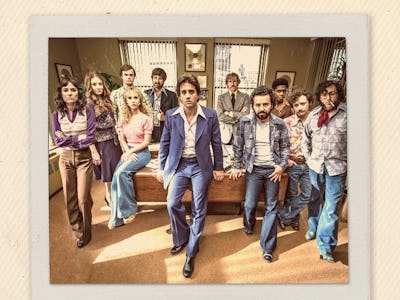 Are you a Martin Scorsese fan? Are you a fan of HBO original programming? Are you a Mick Jagger fan? Are you a Bobby Cannavale fan? Are you a music fan? Are you a music fan who went to see rock music in the '70s? Are you one or more of these things, and have watched the trailers for Vinyl?
Then you are probably concerned about it. At least dubious. Or perhaps you're just outright horrified.
This is understandable. The rapidfire, full-length trailers — released in recent weeks — are too fragmented and high-octane to give you a real sense of what watching an episode might be like. Judging just from them, however, Vinyl looks like an easy recipe for overstuffed dialogue, overacting — I'moncokeI'moncokeripripripwwwaaaahhhh — and long music sequences with weak original songs.
Music shows are always a risky business. Is there an audience for a Martin Scorsese-helmed, proto-punk-centric Empire, and could it be anywhere near as good? Do you want a show full of stuff that sounds like the opening voiceover?
There definitely is an audience — a whole generation of 40-60+-year-olds who grew up on Scorsese gangster movies and things in the radius of this kind of rock'n'roll, plus their kids who they raised on the same shit.
It also definitely could be good. Scorsese has loved music — rock'n'roll of his generation especially — for his whole life; many of his close friends are musicians. He lived with The Band's Robbie Robertson for years, and doubtless did as much coke as Bobby Cannavale does in one episode during that time. Of course, he also spent lots of time with the Stones, and filmed them multiple times. This is a world he knows something special about, and most importantly perhaps, cares about — not something with which he's just fleetingly obsessed.
It's almost amazing that Scorsese has never attempted a project like this before — that is, a fictional music-industry-centric narrative. Up until now, he's only indulged in concert films — including the best one of all time, 1977's The Last Waltz — numerous music documentaries, and weaving together overstuffed, classic-rock-filled soundtracks to structure his lengthy downward-spiral crime dramas. Scorsese has made endless films of that sort; by this point in his career, he's produced and directed so much that he's increasingly at risk of duplicating something he's always done. So it seems possible that tackling a new type of project here will excite him and his team towards greater things.
There's always the problem, though, that one of the people on this "team" is Mick Jagger. Despite being the guy who sings "You Can't Always Get What You Want," "Beast of Burden," "Rocks Off" and "Angie," he's a known idiot — mostly according to his better half. He's inexperienced in the arts of both filmmaking and subtlety. Scorsese's movies are generally to the max, and very stylized, but they are full of subtle humor, odd tweaks to hallowed formulas, and plenty of inventive moments. Alarm bells go off when the Mick-Jagger-meets-Pete-Doherty look-alike character appears in the first 30 seconds. "Oh no," one might think. "Does Jagger's solipsism know no bounds? Is this going to be a self-aggrandizing, predictable half-disaster like Straight Outta Compton x10?"
We can only hope Mick did relatively little here besides sign off on some musicians, pick the clothes, and front a bunch of money.
But the most important thing to consider here is that Scorsese rarely totally fucks up. Indeed, he rarely even does something less than very good. Obviously, different strokes…but whether you dig Gangs of New York, Bringing Out the Dead, and Hugo or not, they are still not outright bad — in any standardized sense of the word. Each movie is, though flawed, visionary in some way — thought out, even if not realized perfectly.
Scorsese's worst sin was probably letting Boardwalk Empire become as bland as it did. The worst case scenario for Vinyl? Scorsese's grip becomes too loose on it, and later episodes become routine and distractingly melodramatic.
There is the elephant in the room: Terence Winter. That is, the creator of Boardwalk Empire, and also the creator and writer of Vinyl. Is the heavy Winter presence a recipe for the formulaic? Remember that Winter also wrote The Wolf of Wall Street more recently than Boardwalk. Certainly, Vinyl seems a lot closer in tone to the former — one of Scorsese's best films in years. Sure, an acquired taste for some, but truly a committed, visionary, and sprawling thing — unforgettably rendered, expertly acted.
Vinyl doesn't have DiCaprio (at his fiercest, no less) but Bobby Cannavale is very reliable, and this seems like it could easily be a landmark role for him. Olivia Wilde is strong too, Ray Romano will be entertaining — no way around that one — and Max Casella a.k.a. Jackie, Jr. from The Sopranos (don't forget, Winter also wrote a lot of that!) seems like a good fit for this mise en scène.
Call it wild speculation, but there's plenty to indicate that Vinyl has more going for it than against it, no matter how dicey the previews look.