The Future of Anchorage: Global Warming Makes Good
Alaska's biggest city is increasingly sustainable and prosperous. It's also warmer, and that's making life fun for city planners.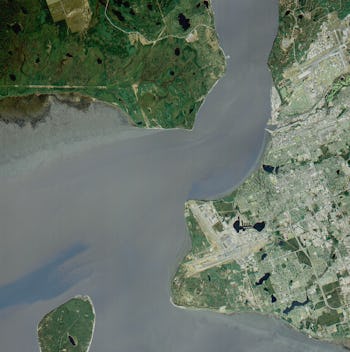 NASA
Alaska is the biggest state in the U.S. by 400,000 square miles and ranks 48th in population, with just 736,732 people. About 300,000 of those residents — or 40 percent of the state population — lives in Anchorage, located on the southern edge of the state. That is just 3.6 percent of the population of New York City, but proportions are set to change. Anchorage may be clinging to a cold edge of a big continent, but it's more relevant than ever.
That's because, although Anchorage is experiencing unusually balmy winters right now, the city is positioned to actually benefit from climate change. "Alaska is going to be the next Florida by the end of the century," Camilo Mora, a University of Hawaii geographer told The New York Times last year. A study he published in Nature backed that idea up by suggesting that Anchorage won't face extreme temperatures until 2071.
This doesnt just mean temperate seasons for a while. It means less aberrant storm events, less flooding, and more time to fortify the city against drastic climates. In other words: Forget Miami and San Francisco and New York. Don't bother trying to resettle in Phoenix or Houston or other places that will be scorching in the next few years. Anchorage is where you'll want to be.
Moreover, when the effects of climate change do begin to be feel more palpable, Anchorage residents probably won't have much of a problem anyways dealing with the effects of climate change. Overall, most Alaskans embrace the natural world as part of their living space. As opposed to proposals that essentially call for walling a given city off from the water's edge, Anchorage would probably try to ingratiate itself within changing environmental circumstances.
The city's architecture and urban design community is already making transformative steps that were completely absent just a decade ago. More and more firms are beginning to implement sustainable design elements in building development. This isn't about 'going green' and creating eco-friendly structures. "Sustainability to me, in our environment throughout Alaska, really means maintainable and operational," says Tracy Vanairsdale, a principal architect at Anchorage-based architecture firm Bettisworth North. "Being 'environmentally friendly' means truly making something that is affordable, sensitive to its own environment — not just the environment — and as efficient as possible."
Dena Strait, the firm's architectural energy programs manager, says sustainability in Alaska has really only taken off in the last seven or eight years. "It's something the architecture and engineering community is now responsible for and paying attention to." Leah Boltz, the director of business development and marketing at the firm, adds that, sustainability has allowed their designers to "spread their wings a little bit," and consider the use of new and emerging technologies.
At its core, sustainability in Alaska is all about energy efficiency, and trying to keep costs and the use of resources down to an absolute minimum. Strait explains that Alaska's economy is not in the most robust shape — the state, depending on who you talk to, is either in a recession or heading towards one — incentivizing the need to keep energy costs low. That's not easy when your city's average high temperatures during January are still 10 degrees below freezing.
Bettisworth North itself has been involved with a pair of buildings where the owners wanted to meet high energy-efficiency standards that they had seen in design trends from other cities in the U.S. The firm holds a high regard for building structures that won't need an intense amount of maintenance work, especially during changing conditions.
A more audacious example of sustainable design is a new housing facility in Anchorage's Muldoon neighborhood, designed by the firm McCool Carlson Green. They will be implementing a set of international standards for net-positive buildings. Designers will have to take into account location, water, energy, health, materials, equity, and beauty — all in an effort to strive for net-zero or positive outputs in energy, water, carbon, and sanitation.
The project is also aiming for 110 percent energy production through solar panels. That's not an easy goal to reach by any means in Anchorage, where the long winters can be quite dark. They'll have to find a system that stores that excess energy.
McCool Carlson Green is also looking to use heat pumps that transfer subsurface warmth to the surface — in effect, taking advantage of the heat generated by the earth underground instead of using a more costly design that warms the building at the ground level. It's a great example of using basic scientific concepts to meet goals at a low cost.
As Anchorage continues to grow and expand, tenants are going to be flocking towards the buildings that keep their utility costs down — whether it's by simple measures or by state-of-the-art systems. There is plenty of time for the city to meet those demands. The biggest question is simply how long it will be before Anchorage begins to resemble a place like New York City.