Rick Ross' Chances for Growth on 'Black Market' are Minimal | RAPS ONLY 
Will Rozay's December studio album 'Black Market' disrupt his gradual downward spiral, career-wise?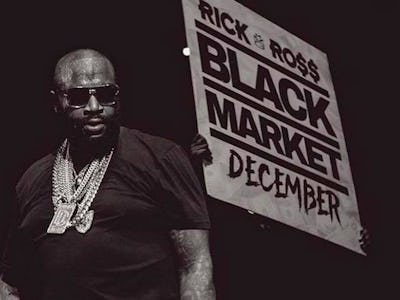 Even a couple of years ago, one could walk around the streets of Brooklyn — or any town, borough, or hamlet for that matter — and hear nothing but "I'm a Boss," "B.M.F." or some other heavy-duty Rick Ross banger ringing out from car stereos and apartment buildings. Mixed in were some other Meek Mill standards, even Wale singles. Rick Ross' Miami-based MMG label and mini-empire was still on top.
These days, one hears New Jersey crooner Fetty Wap's new album or Atlanta anti-hero Future's DS2 nearly back to front, almost without variation. The MMG heavyweights — whose appeal once extended to a large, globalized swatch of rap fans — have taken a serious backseat to ATL or ATL-influenced figures in terms of ubiquity, influence and even — slowly but surely — sales.
MMG's public image has always been centered on "boss" and "king" status, but this year they've done nothing but court the image of a crumbling dynasty — one that's tearing itself apart. Drake came out the apparent victor in his high-profile and highly embarrassing beef with Meek Mill, and Meek and the ever-pressed Wale have come out swinging at each other during the fall-out, thus reigniting an older conflict. Ross caught another assault charge, and recently has become embroiled again in his near-decade-long dispute with 50 Cent.
Ross directed his unusually subtle and narratively-based lines in his September mixtape's most acclaimed leak — the J.U.S.T.I.C.E. League-produced "Foreclosures" — toward 50's dire financial situation ("Now you hands-on, but things don't ever seem right / You make a call to give your lawyer the green-light.") But though topically the focus seemed to be the former G-Unit rapper, the first person weaves in and out of Ross' verses, indicating an increasing self-awareness and modesty. The song has the air of a man trying to pull his thoughts together and take more honest stock of where he stands both personally and within the industry.
Many of his fellow MMGers have moved in different directions. Many younger signees have hardly seen release dates — wherefore art thou, Rockie Fresh? Fat Trel? Amidst it all, Ross has still managed to hold onto his standing as an artist in his own right. The most stunning example of the power of the cult of Rozay came at the top of last year, when his January album Mastermind hit #1 on the Top 200 without even a minor hit to its name. His highest charting single — the Jay-Z collaboration "The Devil is a Lie" only got to #86 on the Hot 100. Previous singles like the Future-reliant "No Games" and "War Ready" — a Jeezy collaboration — were ugly, hookless, and non-descript, and felt like definitive landmarks of Ross' gradual descent into irrelevancy.
Yet an elusive, cross-demographic appeal — some obscure, pervading belief in Ross as a pillar of the hip-hop community — compelled enough people to flock to iTunes for Mastermind to move $179k in its first week, and hit the top of the charts. An soul-sample-dominated, 'Ye-and-Big-Sean-featuring album track, "Sanctified," became a minor radio and critical favorite, though it was never released as a single, eventually climbing to #78 on the charts.
But Ross' returns are slowly but surely becoming diminishing. He doesn't seem to have an escape plan lined up to prevent himself from eventually becoming a B-level street-rap icon on the level of Jeezy. His first definitive career gaffe was opting to release a second studio album last year — November's Hood Billionaire — which ran off complete and total fumes in terms of singles (none charted) and good PR. Despite peaking in the top five on the Rap charts, the latter album sold less than half as much Mastermind.
The question remains: Will Ross' latest retail project — December's Black Market — disrupt the slow downward trend? Possibly, from a commercial standpoint. Ross' lead-off single with Chris Brown, "Sorry," is a modest hit on the Rap charts, bolstered by its twinkling, laid-back '80s soul beat courtesy of fallen guru and '00s jack-of-all-trades producer Scott Storch. "Foreclosures" and another Black Dollar track that curried some favor — The-Dream-featuring "Money Dance" — will be included on the album as well.
There are no features from other MMGers on this album, as if Ross is trying to free himself from any potentially detrimental associations, and cordon off some solid ground to stand on. One also has to wonder how pissed those other guys are at him. Wale threw plenty of shade Ross' way during his dispute with Meek, and one couplet in "Foreclosures" seemed like it certainly couldn't have rubbed Meek right: "And I never took an L back when Meek fell/Just drove the numbers all the way back up at retail."
Excellent schmoozer, icon, and Big Ideas man DJ Khaled is the A&R for the new project, and his clout and connections were no doubt crucial in helping Rozay assemble Black Market's high-powered cast of guests. Last year's Hood Billionare showcased mostly more marginal street-rap up-and-comers and cult figures (Project Pat), and September mixtape Black Dollar's most high-profile feature was known comrade Future — the lowest was a years-old, cut-and-paste verse from the currently incarcerated Gucci Mane. But the upcoming Black Market is set to feature — among other more typical choices — Nas, Mary J. Blige, John Legend, Chris Brown, and Mariah Carey. Also… Cee-Lo.
None of these tracks sound great. Ross is clearly trying to diversify his flow, but often it feels silly more than compelling. The gruff 2Pac impression he does on "Sorry" is proficient, but feels heavy-handed in conjunction with the script, which has little to recommend it: "Hustle from my heart so every night I can deliver/Saying sorry, laying up, way up in your liver." It takes about three or four times through to remember a note of Breezy's hook. The collaboration with The-Dream has an acceptable Prince-inflected backbeat, but again, there's little to grab onto from Ross' end, and again, it's a noodly excuse for a chorus. The Nas collaboration is comically generic.
One can never rely on Ross to deliver much more than ludicrous platitudes in interviews, but his vague comments about the upcoming album have borne out what the leaks, singles, and track list indicate: It will be another Ross project that plays all sides of the board musically. It always seems like he's just looking for what will stick. The album "is the purest representation of me at my most comfortable form," Ross told Philly.com recently. "The music is soulful and layered. It's sophisticated, but it's street." In other words, it's almost definitely all over the place, with different producers nearly track-to-track and way too many half-baked R&B hooks.
Future, Fetty, Young Thug and even Drake (on his Southern-street-rap-informed album If You're Reading This, It's Too Late from earlier this year) have gotten a lot of mileage off of delivering "tunnelvision" projects this year — releases that focus in on one sound, without style-hopping track to track in an attempt to cast a wide net of appeal. These projects are thankfully low on distracting, often definitively unnecessary features. Increasingly, it feels like this approach — which has been the undoing of many major label rap records in recent years, including Meek's, Wale's, and MMG's greatest and more sorely wasted talent Gunplay's most recent entries — is becoming outmoded.
This trend seems true in pop as well as hip-hop. For instance, though Justin Bieber's album features acoustic guitar pop songs, pseudo-"bedroom R&B" and alt-pop in the Lorde vein, his recent monolithic singles — and the stronger part of the album itself — are focused around the work of one producer, Skrillex, who hones in on the rising style known as tropical house. His take on it is appealingly eccentric, and the lifeblood of tracks like "Sorry." (Why have your own "Sorry" on the charts at the same time as Justin, Rozay?) Other pop acts, like the Weeknd and Carly Rae Jepsen, have honed in on a smoother, distinctly '80s aesthetic on their recent albums, picking songs that seem to build almost linearly upon one another.
Black Market's all-star cast and modestly alluring early leaks will probably result in better sales for the album than for the anonymous Hood Billionaire. If Ross puts his money where his mouth is, some more creative lyrical ideas and more velveteen, less stock trap production may result in this being the least hollow Ross record in a while. "It's like a one-on-one conversation, and I'm being straight direct," Ross told Maxim..
Black Market will not find Ross breaking from the general modus operandi of his past five releases. He clearly doesn't think anything is broke enough yet to fix — and maybe it's not, right at the moment. But a day of reckoning is coming soon. When it does, it may be too late for Ross to find an effective way of switching gears, and finding a way back to the top of the charts — or toward setting trends, rather than following them.