Ringo Doesn't Want to Listen to the 'White Album' Anymore -- So He's Auctioning His
This Beatles collectible will probably run more than your year's salary.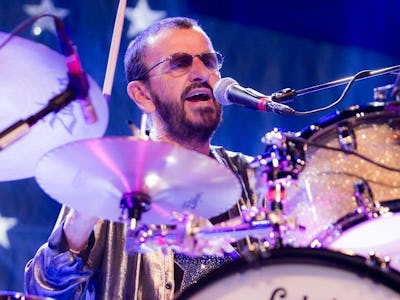 Fuck "Don't Pass Me By," says Ringo. At least, that's what we have to assume, now that he's selling his copy of the White Album.
Earlier in the fall, we got wind that the drummer and sometimes-singer of famous rock'n'roll collective/enclave/project The Beatles would be auctioning off lots of his finest and most valuable memorabilia for charity. This was said to include a drum kit and guitars that he and his bandmates (singers, guitarists, and songwriters John Lennon and George Harrison specifically, if those names mean anything to you) used back in their glory days.
Now, several Ringo-based items have hit Julien's in time for the Christmas season, so parties interested in snagging a couple of Ringo's World Music Award statues for the kids should head on over there now — as well as those interested in shelling out 60k and up for Ringo's copy of the Beatles 1968 self-titled album, which was notoriously packaged all in white.
Apparently, Starr's mono copy is usually thought to be the very first copy of the album ever to be pressed. It has a "Factory Sample, Not for Sale" sticker on it, and a "No.0000001" on the spine.
How much would that artist who made that installation record store that only sold 700 copies of the 'White Album' freak to have this baby?
Place your bid by following the instructions here, millionaires. Auction ends December 3rd.