Val Kilmer Announces Return to 'Top Gun' on Facebook
The post becomes a conversation between Kilmer and his fan base.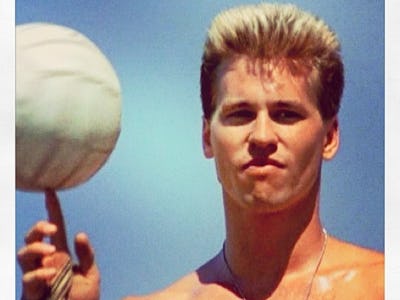 instagram.com/valkilmerofficial/
Actor Val Kilmer has announced he's been offered a role in a planned sequel to Top Gun .
Kilmer, who played Lt. Tom "Iceman" Kazanski in the original 1986 film, posted the details in a somewhat confusing Facebook post that at first seems to suggest Gene Hackman and Francis Ford Coppola are involved (they're not):
Variety had previously confirmed the Top Gun redux was a go during a June interview with Skydance Productions CEO David Ellison. The original's film star Tom Cruise is also confirmed to return.
As for Kilmer's Facebook post, it's worth a look for anyone who enjoys the actor's body of work, as Val goes on to post replies to fans who suggest Kilmer should reprise several of his previous movies (such as Real Genius, The Saint, Tombstone), finds himself re-explaining to several people Hackman and Coppola are not taking part, and is hit with a few pointed comments that he may be somewhat larger than he was back in '86.
Just a taste: