The Weirdest 'Star Wars' Merchandise: a Compendium
All of the most bizarre ephemera for 'The Force Awakens' collected in one place.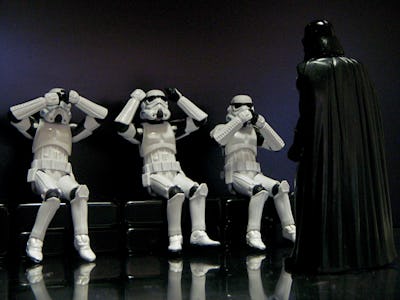 www.flickr.com/photos/jdhancock
With an estimated $5 billion to be made from the lucrative merchandising for the upcoming movie The Force Awakens, it seems like everybody is getting in on the take. We're here to keep you apprised on all things 'Star Wars tie-in' available leading up to the release of The Force Awakens on December 18.
Updated 12/3
Blankets
Just think about snuggling up with your overly-expensive wool Pendleton blanket and thinking, "Hmm, I really wish Kylo Ren's face was on this." Your wish has been granted, and then some. The prestige textile company just introduced a set of four blankets bedecked in a few different Star Wars themes. There's the whole original trilogy gang, one with Vader flanked by a pair of stormtroopers, and another featuring the Millennium Falcon and some TIE fighters. But if you're more of a Force Awakens type, why not snuggle up with a $250 Kylo Ren blanket that features the newest most evil person in the galaxy. Better yet, buy the whole set for $1,200. They'll go great with your kid's equally over-priced Millennium Falcon bed. — $249, Pendleton
Duct Tape
You're standing in a hardware store and you need to add some really good tape to your toolbox. Duct tape is a cornerstone of any DIY project, and should be in any handyman's arsenal. But you're there and you have a choice between regular old duct tape, or Star Wars brand Duck Tape. If you're the kind of person who tries way too hard to let people know you like Star Wars, then we know which one you'll choose. — $7.99, Michaels
Updated 11/30
Socks
Not to be outdone by Rihanna, Star Wars released their own sock line today with Stance, a fast-rising footwear company that won a contract from the NBA, among others. Individual character socks run about $20-$25, but you can get a 'boxed set' as part of the company's "Saber Monday" promotion for $260. — $20-$25, Stance
Updated 11/23
Luggage
What better way to show international travelers that you too are looking forward to Star Wars: The Force Awakens? This ugly luggage looks like it'll get the job done if you're going on a little vacation and can't bring your love of everything Star Wars with you. But we're pretty sure that a Kylo Ren bag is a red flag for TSA agents to do a little impromptu search — not because whoever buys this is a terrorist, but because they'll inevitably carry with them some more nerdy stuff you could "confiscate" and then sell on eBay for a profit. — £ 149, American Tourister
Training Mask
The website to this Darth Vader-themes Training Mask says by using this thing you "will make your workout so efficient, you can actually cut the amount of time spent in training by as much as two-thirds. Simply strap it on and begin your normal work out. Within days, you'll see the difference!" What the makers don't realize is that Star Wars fans don't like to exercise, but since it promises to cut down any potential workout time by two-thirds they'll have more time to keep watching Star Wars and buying more weird Star Wars merchandise. — $29.99, TrainingMask.com
Darth Vader Bed Sheets
J. Crew keeps the Star Wars merch train rolling with these Darth Vader bed sheets. It's one of those super simple designs where you wonder why someone hadn't come up with the same idea before. We make fun of a lot of stuff on here, but these are admittedly pretty awesome. But a kid can only get these or the Millennium Falcon bed. They can only choose one. Sorry. — $90, J. Crew
Adult Huffy Stormtrooper Bike
Nothing says "I can't let go of my childhood" like a grown ass man riding a bike styled after a Stormtrooper. This thing looks pretty heavy duty, but it's destined to be ridden once and then left in the garage never to be seen again. Bonus points for the very nerdy reference to TK-421 along the bike fork though. — $299.99, Target
Millennium Falcon Bed
The blurb for this bed from Pottery Barn shaped like Han and Chewie's favorite mode of transportation begins, "Jump into hyper speed for pleasant dreams." More like unpleasant dreams. The poor kid who will love this thing for three years, then grow out of it after they hit puberty is destined for a solid decade of apologizing to friends about their Millennium Falcon bed. Maybe the poor saps who buy this thing for their kid can start a pay-it-forward type scheme to pass the good intentions off to other crazy Star Wars fans pawning their obsessions off on their kids. — $3,999, Pottery Barn Kids.
Updated 11/17
A TIE Fighter/Darth Vader Watch
For the Star Wars fan who really has everything, this Galactic Empire-inspired design from Devonworks watchmakers has 350 individual working parts and is available in a run of only 500. Too bad the only people able to buy this thing will be real-life versions of Darth Vader. — $28,000, Devonworks.com
Hot Topic/Her Universe Clothing Line
More clothes, even less sense for this fashionable collaboration. Though, to be fair, some of the stuff here is pretty awesome for the lady Star Wars fans out there. The Vader and R2-D2 sweaters are the best of the bunch. But we're fairly certain no fashionista would be caught dead in this BB-8 jacket, and this Vader faux-leather jacket was just extra stock leftover from somewhere they thought resembled the most evil villain in cinema history. We're also puzzled about who thought a Vader dress was a good idea, though the Force Awakens tour T-shirt above basically saves the other mediocre stuff available. — $32 - 53, HotTopic
Covergirl Makeup
Slap a logo on anything and it's official Star Wars merchandise. Covergirl must have sent their marketing team into overdrive trying to justify how nail polish and mascara have anything to do with an epic space franchise. "Unleash the light within or dare to discover your dark side with 6 limited edition shades" the Star Wars Colorlicious Lipstick says. Um, okay? — *$5-7, Covergirl.com
J. Crew Shirts
There's going to be a lot of tenuous clothes tie-ins when it comes to The Force Awakens, and nothing says "Let's take them for everything they've got" quite like this lazily printed shirt from J. Crew with the best line from the trailer. They know you could probably just get a grey heathered shirt and iron these letters on for much cheaper, right? It's available in women's sizes for the lady in your life too. — $45, JCrew
Darth Controller
A healthy chunk of Star Wars fans are also gaming nerds. This fairly bland Darth Vader inspired PS4 controller is available on its own for $65 or in two bundles: a $450 Star Wars: Battlefront edition or a Disney Infinity 3.0 edition for the same price. How does this represent Darth Vader other than being black? The rule here, as always around Vader, is don't ask questions. — $65, Wal-Mart
Before Halloween
Kylo Ren costume
Part of the merchandising power of Star Wars is that people buy stuff — in this case, a kid's Kylo Ren costume — without knowing anything about the character yet. Like, what if Kylo Ren stomps a cute dog to death, right off the jump? Would you want to wear his costume then, you monster?
The beautiful thing is, it doesn't matter if people know nothing about the character because people are still dressing up as the character. — $35, Jet.com
BB-8 Droid toy
Much has been made of this lil guy — we have one at our office — because it's a pretty interesting and pretty modern bugger. You control it with an app and it skitters around on the floor, making bleepity bloop droid noises. No one knows what BB-8 is or what it does in the service of Force Awakens, other than to advertise BB-8 toys, but again, it doesn't matter.
There's also an $80 version in case you don't love your kids all that much. — $150, Sphero