Prison Phone Company Securus Denies Violating Inmate Rights With Call Recordings
A major record leak claims privileged attorney-client conversations were being listened in on.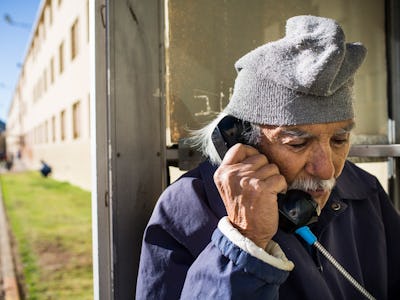 Getty
In the wake of millions of inmate phone call records being leaked to the Intercept, Dallas-based Securus Technologies continues to argue that it's the victim of a traitorous employee rather than a data breach.
Securus, a major developer of phone systems for the nation's prisons and jails, has been accused of violating inmates' right to private communication with attorneys.
A day after the leak, Securus announced its own internal investigation, claiming it saw no evidence of a breach in its system and that any inmate-attorney calls that were recorded were only done with consent.
In a statement to the media, Securus now says its own investigation shows no evidence that any financial information was recorded and continues to claim that this was essentially an inside job rather that a weakness in their security.
Here's are the bullet points from Securus's release:
"All information we have gathered to this point indicates that data provided to the Intercept were from a single customer's data files and were likely accessed through a third-party vendors file-sharing arrangement, unique to that customer. We have not seen what was provided to the Intercept beyond what they've reported, but there is no indication at this point that the theft involved any other customer's data nor that the data was obtained directly from the Securus network or platform.
"Despite allegations from the Intercept and other parties, we have seen no evidence to date of any attorney-client privileged communications that were recorded in error.
"While the Intercept reports that they matched call data from the stolen data with phone numbers attached to attorneys' offices, no evidence has been provided that any of these calls were actually recorded, and if so, whether any of them would actually constitute privileged communications. Many calls from facilities are placed daily to law firms that are not subject to attorney client privilege including scheduling calls, informational queries, calls to people other than lawyers who work at law firms. There is a very important distinction between data that indicates that a call took place and an actual recording of the contents of that call. Data about the time and phone numbers of a call are generated for virtually every call that is placed in the U.S., and it is not covered by attorney-client privilege.
"Our calling systems include multiple safeguards to prevent attorney-client recordings from occurring. Licensed attorneys are able to register their numbers or a specific call to exempt them from recording. Attorneys and inmates who do not register their numbers or calls will hear a warning about recording prior to the beginning of each call, and both must actively acknowledge they want to continue the call.
"While it is possible that not all of these safeguards were followed by the callers in some cases, we have seen no evidence to date of recorded calls that would fall under that category. Without direct access to the stolen information, Securus cannot confirm whether any such recorded calls exist. If such evidence exists, we encourage the Intercept or other parties with access to the stolen data to provide that information to the FBI.
"Contrary to some reports, Securus does not sell call recordings or information to our law enforcement or correctional customers or anyone else. We record calls and provide forensic software to our customers based on the stipulations of our service contracts and in accordance with federal, state and local laws. Retention of these records is also conducted according to laws in various jurisdictions.
"No credit card data, financial information, social security numbers or similar data from any party was contained in the information that was stolen. While this fact was never in question, we have received multiple questions on this front. Securus does not store credit card information."
The leak allegations come at a bad time for the company. This October, the FCC capped the very high call rates Securus and similar companies were charging friends and family of the incarcerated to call them — lowering rates on calls from $14 per minute down to $1.65. Ironically, Securus claimed the system was so expensive partly because of the recording tech they needed to install. An FBI investigation is also underway to help find out if any of that tech was really worth the money.