This Tease at a New 'Force Awakens' Character Is One Tease Too Far
Empire Online has an exclusive look at the new character Constable Zuvio, and that's about it.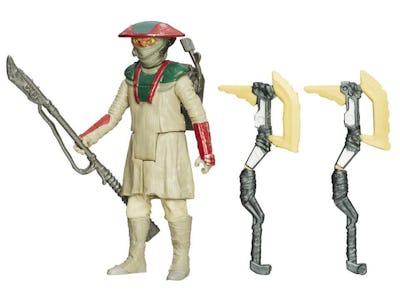 http://imgur.com/a/lbYLw#55
Star Wars teases are the ultimate teases.
British film site Empire released the first look at a character called Constable Zuvio from The Force Awakens. We got our real first look at the character on Force Friday when action figures for the new character were released. We didn't know much about him then, and we don't know much about him now, other than he looks like one of those hairless Egyptian cats wedged into a Sharkticon outfit.
Empire quotes Lucasfilm by describing the character as a "vigilant law officer on a mostly lawless world" who "keeps order in a frontier trading post." Other than implying he lives on the new desert planet of Jakku, the magazine continues the vagueness from there:
"That's about all we know of the mysterious Zuvio, who has not yet appeared in any trailers or official marketing material for the film. There's no word on what race of alien he is. There's no word on which actor is playing him, nor on where he's based."
As much as we love talking about Star Wars, this kind of announcement shows how inherently ridiculous the hype can be. We literally don't know anything about the character other than that he's in the movie, he looks super pissed off, and that he wears a questionable Charlotte Hornets Starter helmet and shoulder pads combo.
Is it worth even seeing him before the movie is released on December 18 if that's all we're going to get? We know director J.J. Abrams loves keeping everything shrouded, and that the movie is just over one month away, but if it's this mysterious then Abrams and his Force Awakens squad should leave things like this under wraps.