R.I.P. Odd Future: A Confirmation of What Many Assumed to Be True From Tyler the Creator and Hodgy Beats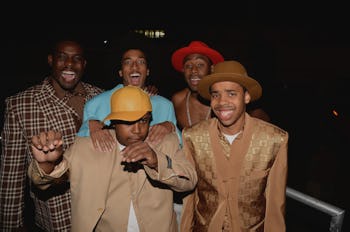 No, really this time. At this point, there's a pretty narrow divide between those who care about the idea of the irreverent L.A. rap collective existing and continuing to collaborate. There are the OFWGKTA cult — akin to Juggalos — who attend their festivals, watch all of their Adult Swim projects (from Loiter Squad to Tyler's new series The Jellies), buy their merch, and still download Hodgy Beats mixtapes.
Then there are the rest of us, who have by now picked our favorites out of the bunch, and follow the high-profile releases of Earl, Tyler, The Internet and of course Frank Ocean — who barely counts but whom we wouldn't have known about initially were it not for his early affiliation with the group.
This weekend, at the Tyler-run Camp Flog Gnaw festival at the L.A. Coliseum, OFWGKTA was listed on the bill, despite comments Tyler made in May, implying that those letters were no more. During this time, there was further commentary from Earl Sweatshirt, who basically confirmed his comments. "People change," was the basic thesis. Tyler pulled back from the comments to some extent afterwards.
Now perpetual sideman Hodgy Beats — who split up his duo with OF producer Left Brain at the top of this year — has taken an opportunity to criticize Tyler publicly, taking to IG and Twitter after an onstage rant at Flog Gnaw. His comments implied that Tyler had turned his back on the rest of OF and that other members of the group felt the same way as him.
Tyler fired back on stage and on the 'net. Check around the 39 minute mark, where Tyler confirms this is a real conflict: "Niggas got me fucked up. I put too many niggas on. I helped too many of my motherfucking friends out. And niggas gonna come foul? And you know who the fuck I'm talking about, nigga. And yes, it's getting real. I love you though."
Hodgy said one thing that seems patently wrong, since Tyler's "Yonkers" video was their clear breakthrough, and a large part of the media attention at the time was focused on him:
OFWGKTA proved to be a pretty fascinating phenomenon early on, when their internet-grown community seeped into the mainstream and garnered them a very unique record deal and the opportunity to expand in so many directions. Though the sound of breakthrough records like "Yonkers" and "EARL," was interesting and unique at the time, it has not gone onto dictate the future of alt or even mainstream rap, as much as cult figures like Lil B and Spaceghostpurrp, who rose at the same time.
But we can continue to follow the movements of the standalone figures we like — Earl, especially, seems like he still has a bright future ahead of him, and his last album was one of the Top 10 hip-hop full-lengths of this year. For the sake of everyone's safety and a dearth of blog headlines, let's hope the fallout doesn't get too ugly. But for now, farewell to the OFWGKTA unit — let's move onto other things.