NASA's Response to Adorable Humans of New York Photo Goes Viral, Gives Us Hope for the Future
HONY brings people together yet again.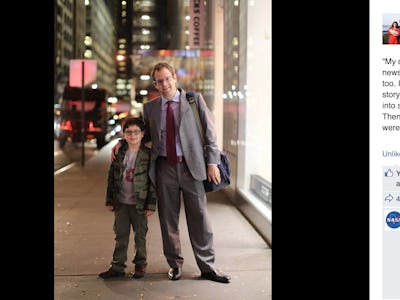 HONY Facebook Screenshot
Humans of New York has a way of bringing some pretty heartwarming stories to a huge audience… and sometimes that audience even includes NASA. This time, HONY's Brandon Stanton chatted with a little boy about how he'd love to follow in his father's footsteps and become a reporter.
Here's what this little kid told HONY:
"My dad goes all over the world and learns about the news. One time he met a king. I want to be a reporter too. If I was a reporter right now, I'd probably write a story about if NASA was going to launch a new rocket into space. I'd start by going to the Director of NASA. Then I'd ask him about his rockets. And if any of them were going to space."
There's hope for the future of journalism after all! It warms the cockles of Inverse's science reporter hearts just thinking about it. Looks like we're not the only ones either:
NASA heard this kid's enthusiasm for reporting (and space), responding directly to him on the HONY post:
"We are going to launch a new rocket into space! We're developing NASA's Space Launch System to be the world's most powerful rocket and launch NASA's Orion Spacecraft into deep space, first to lunar orbits then eventually farther on the journey to Mars."
In addition to getting a legit response from the folks at NASA, this kid also has a few more people willing to help a fellow science-lover out:
In less than 24 hours, the HONY original post has earned over 275,000 likes and NASA's response has earned another 50,000 likes. Not too shabby for a random kid in New York.