New 'Star Wars' TV Spot Offers One Glorious Second of New TIE Fighter Footage
It's not much, but it's still awesome.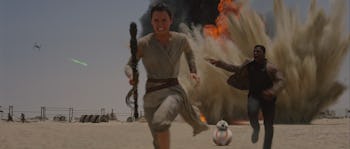 StarWars.com
The Star Wars masterminds keep rolling out new TV spots — which are awesome — but it'll take only the biggest Force Awakens fanatic to spot the new footage. Good thing we've got you covered with what to look for in this new 60-second TV teaser.
Nearly a year ago we got our first look at the fragmented teaser trailer. Then five months later, J.J. Abrams dropped a second teaser just to mess with our heads. Finally, three weeks ago we all had to sit through Monday Night Football to feast our eyes on the official trailer. It gave us goosebumps, it made us somehow even more excited for the movie, and left us questioning what's next.
It led us to this very momentous TV spot filled with a single moment of a millisecond shot of a TIE fighter breaking free from a cable or something. We kid. There's a few more new shots, but it's mostly more of the same.
The TIE fighter shot basically guarantees the storyline of Finn going AWOL and fleeing to Rey's desert planet of Jakku:
The other great shot is we find out where the explosion comes from in this photo that's been circulating for awhile:
It turns out the First Order doesn't take too kind to deserters and they try to make Finn pay for it.
Besides a fairly cool shot of Han handing Rey a blaster, the other real money shot from the new TV spot is at this nice little tableau below. Han on the left, Threepio on the right, and Leia looking like a total boss overseeing what has to be some type of military operation. Just don't call her a princess anymore.
We like these little teases, even if they don't offer up too much new footage. They're doing the impossible: making fans even more anticipated for what has to be the most anticipated movie of all time.