Neil LaBute's Vampire Hunter Presents a Mixed Bag
The SyFy series could bring female-centric staking into fashion. Again.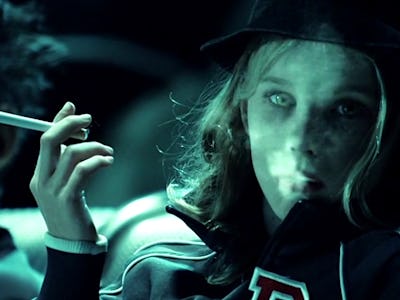 Have you ever thought that a woman could slay vampires? No? It's called Buffy and it is available on Netflix and you're an abomination; go fix yourself.
Have you ever thought that Neil LaBute should be the face of female-centric vampire eradication? Well…you're a wizard from the future with the worst hyper-specific television-production foresight. Congrats on whatever is wrong with you.
SyFy has green-lit a thirteen episode season for the hour-long episodic narrative. The story follows a female Van Helsing as she attempts to bring down nightmare creatures in a near future overrun by bloodsuckers. While this bears resemblance to the shockingly original dystopia of Daybreakers, it's basically Daybreakers.
"Van Helsing reimagines a classic story in a compelling new way, featuring a bold and complex heroine," said Chris Regina, Senior Vice President, Program Strategy, Syfy. "This high octane acquired original series will be a terrific addition to our lineup next year."
"I am extremely excited to be working with Syfy and Nomadic Pictures to create a unique, character-driven action series that will move the traditional vampire tropes into bold and unexpected new territories," said LaBute. "This is a wonderful chance for us to forge great stories and unforgettable characters and throw them into a world where the stakes — both dramatic and personal — are tremendously high. I couldn't be more thrilled to be working with Chad and Mike at Nomadic again and with Chris Regina at Syfy. The combination of all of us on this project together is going to be combustible. I hope we rip the doors off this genre week after week."
But Christ, what are we all doing here? What's the last SyFy show you gave your time to? Mine was Helix and in the first season a main character got their head blown up and later in the same episode that dead character's twin brother was introduced. SyFy is such a shitshow of bad programming at this point, but could a combination of this show and the impending Expanse adaptation reinvent this entire network as something we don't spite-laugh towards?
LaBute, the man behind Fat Pig and reasons to be pretty might not align himself with the classic expression of feminist horror-show expressionism. So now we've got a genius theater writer stretching beyond his strengths to make lady-centric horror-action a theme within his wheelhouse.
For all my sudden anti-LaBute reactionism, I'm shocked to discover that this is even a possibility of modern entertainment. LaBute has done some crap misogyny but he's also written the kind of theatrical entertainment that dares to engage my generation. This is a delight and a nightmare and delightmare — Syfy is getting exactly what they paid for.