Banks Could Use Blockchain -- the Bitcoin Technology -- by 2016
The blockchain tech powering the cryptocurrency could be more reliable value than Bitcoin in the long run.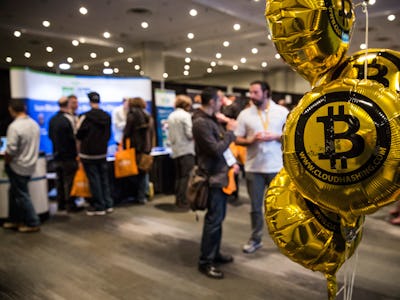 Getty
Capital markets could be using the Blockchain, the technology that's behind bitcoin, as early as next year, according to a new report by a banking industry group:
"Traditional financial institutions such as banks run on IT systems built decades ago and as a result are inefficient, opaque, and cumbersome. Blockchain can potentially overcome many of these legacy issues."
Blockchain works as a vast, decentralized ledger, recording transactions then marking them down in a global network to guard against corruption. That's attractive to a banking industry that looks to process transactions more securely without a third-party intermediary, with blockchain tech someday applied to derivatives and used to settle share trading.
The adoption of blockchain across capital markets is now seen as a matter of "when, and not if," says Shagun Bali, a New York-based research analyst for the TABB Group, a research and consulting firm focused exclusively on capital markets.
A consortium of more than 20 banks is already building a framework to implement the technology. The TABB report predicts blockchain will be tracking syndicate loans by the second quarter of 2016 at latest.
From the report's executive summary:
"Over the next 12 to 24 months, we will see early adoption grow. Blockchain solutions might be rolled out for syndicated loans as early as Q2 2016, some use cases such as derivatives may still take at least two to five years to materialize."
There is the matter of cost, though:
"We cannot ignore the hundreds of millions of dollars the banks would have to spend on integrating this new technology with existing systems and workflows."
Meanwhile, financial advisors pushing bitcoins probably have a few disgruntled clients. After a recent rally on Wednesday, bitcoin prices came crashing back down in the wake of a questionable surge in Chinese demand and a Financial Times article accusing the speculative cryptocurrency of being little more than the latest version of the pyramid scheme.