Why Cara Delevingne Will Be the Enchantress the World Needs 
'Suicide Squad' is already stirring fan debates. But the Enchantress is perfectly cast.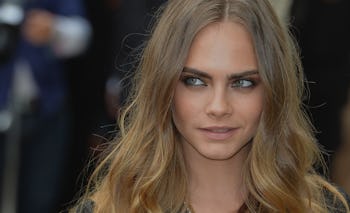 What would Suicide Squad be without arguments? Fans are debating the supervillain movie's casting, its costumes, its fucked-up relationship modeling. One of its most enigmatic characters is the Enchantress, played by supermodel Cara Delevingne. On the surface, this is easy pickings for haters: Oh, come on, one of the most important characters isn't even being played by a seasoned actor? But a closer look at Delevingne shows that she just might be the Enchantress the world needs right now. Here's why.
She uses her fame to give a voice to those who need it. Superhero movies are the biggest box office crushers right now, catapulting their stars into the limelight merely by association. Fame works in all sorts of ways: for good, for evil, or just getting in the way of trying to live a normal life.
Delevigne's doing work to own her sexuality in a public way, something not every star is keen even to discuss. She identifies as bi, a sexuality sometimes called "invisible". And she's fierce about it. In a Vogue profile of Delevigne, writer Rob Haskell dismissed the entire idea of bisexuality, writing, "Her parents seem to think girls are just a phase for Cara, and they may be correct." Delevigne fired back, "My sexuality is not a phase. I am who I am."
Her questionable acting CV. It's easy to have doubts about Delevingne's acting ability. After all, she's really only performed in one significant role thus far — Paper Towns, adapted from the John Green novel of the same name — and she didn't exactly get rave reviews for it.
In its review, The AV Club said "Delevingne possesses an almost preternaturally interesting face, but is at best a beginner actor," while The Guardian wrote, in a one-star review, "Here's an insufferable teen drama whose female lead displays almost radioactive levels of manic pixie dream-girl quirkiness: a Chernobyl of adorkable bohemian unattainability. She is transparently the invention of a male writer, and the film is incurious about how real girls and women think and feel."
The Manic Pixie Dream Girl turn is exactly why we can't use that performance to judge her. More type than person, the MPDG subsumes even an actor as strong as Natalie Portman. So even though we've seen Delevingne onscreen before, she is, for all intents and purposes, a blank slate. What better to use for a mysterious character like the Enchantress?
About that modeling thing…
Since Cara Delevigne is a supermodel-turned-actor, it's natural to think she might not have much in the way of acting chops. The wooden performances and vacant glances required for the runway and print don't translate well to the screen, and how many supermodels-turned-actors can you name who are actually any good? Well, I've got one for you: Caitriona Balfe.
Balfe had a long career as a model — including a stint for Victoria's Secret — before landing her breakout role on the historical drama Outlander. Balfe's critically acclaimed performance as a World War II era English nurse garnered several awards and nominations, including a Best Actress Saturn and a Best Actress award in Entertainment Weekly's EWwys, for shows and performances snubbed by the Emmys.
Not all supermodels are alike, so of course this doesn't mean that Delevingne can act her way out of a paper bag. She'll have to show us herself. Even so, Caitriona Balfe proves that "supermodels can't act!" isn't much of an argument.
She's gotten into a feud with the King of the North. Cara Delevingne and Richard Madden — better known as Robb Stark, former King of the North; the man with the power to fill waterparks with the world's tears — recently had a Twitter feud. It all started when Madden was quoted in Style Magazine calling Delevingne "unprofessional" and "ungrateful", to which Delevingne did not take kindly.
The fact that she feuded with him — and didn't know who the King of the North is! — is hilarious, because who does that? The Enchantress does that. And yet, she relinquished her pride when he corrected her in a manner only a Stark could, enabling the feud to resolve in a manner as classy as possible for a Twitter feud.
All's well that ends well between the King of The North and the Enchantress. I can hear the fan fictions of their war being written as we speak.
Is Cara Delevingne a fantastic actress who is going to change the world? Maybe not. Can she hold down a dark, high-energy Enchantress in Suicide Squad? Yeah, we're betting so.