Brown, Charlie Brown. And 007 Too: This Weekend's Box Office Roundup
'Spectre' and 'The Peanuts Movie' helped jumpstart the box office after a month-long drought.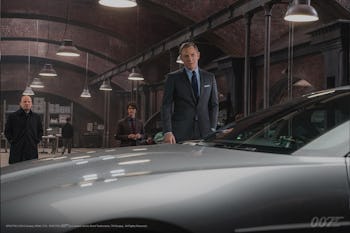 www.facebook.com/SpectreMovie
What did you think of Bond? It's the question that nearly everybody who managed to secure a ticket to the highly anticipated newest 007 adventure were asking after this weekend. Spectre is causing a stir among movie fans after the near-unanimous praise for Bond's previous installment pushed the dashing British superspy into the charts of the highest grossing movie of all time. Will his latest get there too? Here's the week's box office roundup.
What Won: Spectre
In a result that surprised absolutely no one, Bond rode into the North American box office — most likely in an Aston Martin — this weekend and took the top spot with a $73 million three-day take. That total makes it already the eighth-highest-grossing Bond movie of all time, a list it will only continue to climb. But it wasn't all successes for Spectre, as its amount was more than $15 million shy of Skyfall's first weekend haul in 2012. Spectre should win next week, too — its stiffest competition is the Chilean miner drama The 33 — but it soon will have a tougher time against Jennifer Lawrence and the last installment of The Hunger Games. Skyfall faced similar competition three years ago when the final Twilight movie opened against it; Bond fell to No. 2 on a 13 percent drop. If Spectre is to match Skyfall's gargantuan $1.1 billion box office total, international grosses will have to carry it.
What Was Disappointing: Steve Jobs
Poor Steve. We knew it was a box office bomb, but it's still surprising just how much the movie bombed. There's the potential that it'll get back in the conversation around awards season, but Steve Jobs continued its current plunge at movie theaters this weekend where it came in 15th overall. It doesn't help that 2,072 theaters across the country dumped the movie altogether into a near-limited run of 421 total theaters. Though if there is one success story from Steve Jobs it's that it finally trudged past the Ashton kutcher-ed Jobs biopic from two years ago at the domestic box office. Kutcher's movie tallied just over $16.1 million while Fassbender is now up to a bittersweet $16.6 million. You just have to think different.
What Was Surprising: The Box Office Totals This Weekend
October was rough at the box office. It was great for The Martian, which rode triumphantly through a relatively weak slate. But it was the worst October for movies in eight years. Bond and Charlie Brown kick-started November right: Spectre and The Peanuts Movie drove a 122.4 percent increase over last weekend. While Bond is getting all the praise, it should be said that Charlie Brown, Snoopy, and friends pulled in a respectable $45 million, near the similar CGI kids movie Hotel Transylvania 2 that opened last month to $48 million. If both new releases keep up the pace with The Hunger Games: Mockingjay - Part 2, then November should atone for the weak October.
What You Should Take a Chance On: Spotlight
Director Tom McCarthy's true-life journalism drama Spotlight is being called one of the year's best movies so far and was able to pull in $302,276 from just five theaters. It'd be worth catching right now if it's playing near you before it builds steam to turn into this year's version of The King's Speech, which took a story based on actual events and rode it to a Best Picture Oscar five years ago.