Grimes 'Art Angels', Ellie Goulding 'Delirium' Now Streaming on Spotify
The artists drop new stuff that is pretty darn worthy.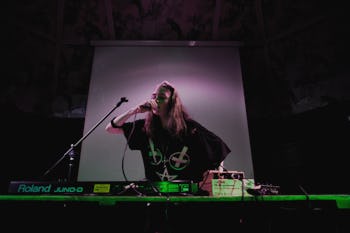 blikeng / Flickr Creative Commons
Friday started off at 12 a.m. with new albums from Grimes and Ellie Goulding, available on Spotify, and a late-night listening session with the releases proved worthy.
If Grimes is already your girl, you won't be disappointed, but possibly a bit surprised with her Art Angels work, as it's a more mature direction for the Canadian creepy-pop performer. Moving away from her older haunted waif sound, she now exploits her actual voice and juices up the beats with a more layered collection of e-music, as compared to some of her earlier work that tends to recall the proto-electro-dance established by Giorgio Moroder decades ago.
However, her signature quirkiness still lives, most evidently on the first album cut "laughing and not being normal," which wavers in direction between a Danny Elfman soundtrack composition and alt-noise experimentalism.
"California," on the other hand, is a happy jam with a beat that almost sounds ready for line dancing, and "Kill V. Maim," a peppy, new wave-ish number, seems more like a Gwen Stefani pop song than the typical outside-the-mainstream Grimes effort.
Extra attention should be given to the eponymous "Artangles," a rich song with a wall of sound that goes high, low, bouncy, and spacious, while the closest thing to a dud might be "Easily," a somewhat plain offering that has a theatrical theme, making the track seem akin to something rejected by the 2014 Annie movie soundtrack.
Ellie Goulding, much more straightforward in her pop than Grimes, has always delivered a style and substance that – if matched with something more hip-hopped – could potentially make her the Nelly Furtado of the 2010s, but instead she has stuck to her formula of electronic-powered, occasionally Enya-like music.
At the top of Friday she dropped Delirium, in which she puffs up a bit more, sounding tougher than usual, especially on her track "Aftertaste," singing with gusto about losing a love she'll never forget while working over pop radio-friendly beats.
There are no major misfires on this album, but to be nitpicky, the song "Keep On Dancin'" politely goes nowhere — and "Don't Need Nobody" falls flat at times throughout its duration.
A tune to relish is "Around U," which uses a low buzz-growl under tinny electro-snare pops in a way that gives the song undeniable oomph — and "Don't Panic" is just plain catchy and fun, not even trying to hide the clear inspiration it borrows from M83's indie neo-classic "Midnight City."