Tombs Discovered in Greenwich Village
A pair of crypts holding centuries-old remains, yet to be identified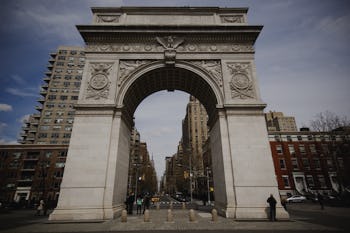 Missy S. / Flickr Creative Commons
Workers improving old water mains under Washington Square Park in New York City's Greenwich Village have uncovered two burial vaults less than four feet beneath ground level.
The first – containing the disseminated skeletal remains of approximately 10 people — was found Tuesday, the second Wednesday, with the latter discovery holding close to 20 intact coffins.
Archeologist Alyssa Loorya, whose company Chrysalis Archaeological Consultants is brought in by NYC to explore sites where construction is expected to reveal archaeologically important finds, has speculated to the press that the crypts are part of a defunct Presbyterian Church cemetery dating back to the early 19th-century, even possibly the late 18th-century. Chrysalis staffers will begin searching through city death records, old newspapers and other archives, hoping the discovered deceased can be identified.
WABC-TV journalist Tim Fleischer tweeted out a photo from the second crypt, taken by Chrysalis:
The first tomb was reportedly clearly disturbed prior to its re-discovery, with bodies pushed into a corner, but the second ossuary holds intact coffins with plates that may help reveal the identities of those interred.
As for the future of these vaults, NYC policy is to not disturb burial grounds, meaning the plans for the water main improvements will be rerouted.
Workers digging in Washington Square have previously uncovered graves, as a portion of the park is well-known to have once been a Potter's Field.