CGI Updates of Old Cartoons Haven't Fared Well at the Box Office
Can 'The Peanuts Movie' buck the trend of absolutely terrible contemporary cartoon adaptations?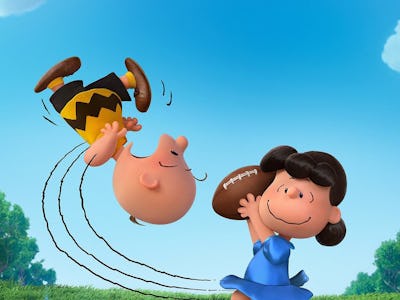 www.facebook.com/PeanutsMovie
The potential to not like The Peanuts Movie is a little heartbreaking. Being critical of Charlie Brown and his pals is tantamount to stomping on the innocent post-war childhood lives of every American citizen who read their adventures in newspapers every day. It would blot out the nostalgic tradition of watching A Charlie Brown Christmas or A Charlie Brown Thanksgiving each year to remember the good old days of how Charles Schulz captured the comedic foibles of growing up. But before you forget, remember to ask why they even wanted to make an updated CGI Peanuts movie in the first place. The short answer: Other films in this subgenre have made fantastic bank, without even being watchable.
Unsurprisingly, converting the cartoons of yesteryear into computer generated animation feature films is a highly lucrative business. Kids love being entertained no matter what they're watching, and studios love resurrecting old cartoons because of the built-in brand name recognition from the parents of said tiny cinematic consumers.
The Peanuts Movie may not look like the traditional animated Charlie Brown movie, but reviews say it at least tries to remain faithful to the aw-shucks mentality that has made Charlie Brown so endearing for generations. And yet — CGI? 3D? What would Charles Schulz think? What would fans of the original cartoon think?
At least they appear to have learned from the past decade of hot garbage that began with 2004's Garfield. While that movie did pull in a respectable $200 million worldwide haul, it was not particularly well-received. "Roundly scorned" might in fact be more accurate. The Bill Murray-voiced lasagna-eating feline managed a 15 percent Rotten Tomatoes score. The annoyingly subtitled sequel, A Tale of Two Kitties, released two years later, fared worse critically and financially. Its $141 million worldwide grosses is still a respectable total; Rotten Tomatoes counted an 11 percent score. It was basically the Monday of animated cat movies.
Then there was 2007's Alvin and the Chipmunks and its sequels, or (sigh) "squeakquels," that followed in 2009 and 2011. The first Alvin movie raked in more than $361 million, and managed a relatively respectable 27 percent on Rotten Tomatoes. This score basically makes it the Citizen Kane of big-screen cartoon updates.
Audiences for some reason flipped for the second one: $443 million worldwide but was less well-liked, with a RT score of 21 percent. Chipwrecked, the bile-raising title of the third Alvin movie, fared worse on both fronts. It made more than $342 million worldwide, and posted a woeful 12 percent score. A trend, you're noticing by now.
Think that's all? Not even close.
Though another moderate success, the contemporary CG-laden adaptation of Yogi Bear in 2010 could only muster 13 percent on Rotten Tomatoes, even with the dulcet tones of Justin Timberlake as the talking bear's sidekick, Boo-Boo.
Then there were The Smurfs in 2011 and the sequel in 2013. A roughly $910 million worldwide total for both the original and the sequel is as baffling as it is profitable. But a combined 36 percent on Rotten Tomatoes for both movies goes to show that your movie doesn't necessarily have to be any good to make mountains of money.
The Peanuts Movie currently stands at an impressive 86 percent on Rotten Tomatoes, equal to the combined scores of both Garfield movies and all three Alvin and the Chipmunks movies combined. Maybe it's bucking the trend in its genre, because, until now, good grief doesn't even begin to cover it.