Are American Tech Companies Helping China's Military Boom?
Firms like IBM and Intel's partner with Chinese companies that partner with the military could be a national security risk.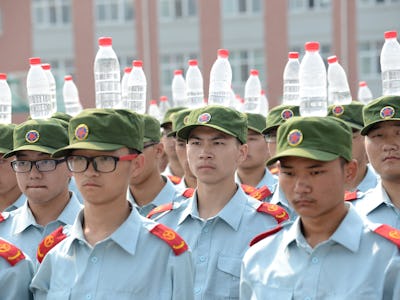 Getty
With China rolling out awfully familiar weapons designs as part of a recent military buildup, U.S. Defense officials have been speculating whether they're attempting to clone hacked American designs. But in the newest twist to this story, China's armed forces boom could be benefitting from something as old-fashioned as a business relationship.
Military analysts are keeping an eye on the growing trend of military-connected Chinese firms partnering with U.S. companies. IBM especially has dealings with Chinese companies like Tsinghua Holdings, Inspur Group, China Electronics Technology Group Corporation, and Beijing Teamsun Technology — all of which supply tech to China's growing military and police divisions.
To a lesser extent, Microsoft, Intel, Cisco, Hewlett-Packard, and Western Digital all have similar relationships with one of those same firms. Whether those relationships have helped China clone the Lockheed Martin F-35 Joint Strike Fighter is a matter of debate, and one domestic firms would likely downplay, with no actual tech support to foreign militaries yet recorded. None of these business relationships have been determined in violation of any laws, though in May the U.S. Navy replaced a computer server after finding out IBM had sold the same computing unit to a Chinese company. In February, Intel announced it has stopped selling chips to Chinese supercomputer sites after the Commerce Department found the company's work being acquired through its Chinese partner Inspur.
Still, a report from security firm the Defense Group Inc. released last week warned that such relationships were hurting American interests.
"IBM is endangering the national and economic security of the United States, risking the cybersecurity of their customers globally, and undermining decades of US nonproliferation policies regarding high-performance," the report stated.
IBM representative Edward Barbini told The Economic Times that report "wholly mischaracterized" his company's business ties.
For now, nobody's been caught managing requests directly from the People's Liberation Army, even if the companies they do business with do.