Bitcoin ATMs Are Things Worth Stealing Now
As the currency roars back, tech to change your cash to Bitcoin will become common.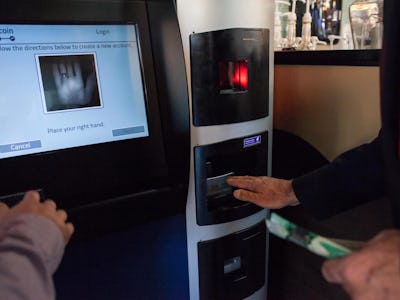 Getty
It appears that Bitcoin is getting a second wind. Not only is the virtual money seeing a resurgence in value, but its ATMs are being targeted by forward-thinking burglars.
(Yes, Bitcoin ATMs are a thing.) You may not have seen a Bitcoin ATM because they're still fairly rare since debuting in the fall of 2013 — with no more than 471 installed around the globe, converting cash to Bitcoin for customers. (Mike Tyson even has his own branded machine in Vegas, though only time will tell if it proves out as a better investment than George Foreman's grill.)
Bitcoin's value has recently exceeded $400 for the first time in 2015. The collapse of online currency exchange Mt. Gox in 2014 brought down speculative prices. Since then, Bitcoin's future has been the subject of much debate with former code caretaker Gavin Andresen predicting it was doomed unless the system upgraded to larger blocks of software that would allow it to handle more transactions.
Hope lies in blockchain technology that could make transactions safer, and now brokers are saying it could go as high as $600 in the next year. Remember, as with any investment — especially one favored by dark web drug dealers — caveat emptor.
Meanwhile, Bitcoin ATMs are under siege. Atlanta's Village Smoke Shop had one of them until late Tuesday when a pair of thieves, one armed, grabbed the machine and ran. Atlanta Police Department Spokeswoman Elizabeth Epsy told Creative Loafing the machine was valued at $7,000 and had around $2,000 to $3,000 in it when it was taken. They don't have any leads but the robbery was caught on video.