Early Prison Release Doesn't Result in More Crime
Data on California's first wave of early-release prisoners quell fears of widespread recidivism.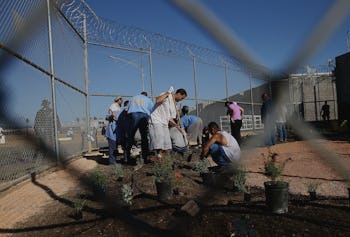 Getty
A report from Stanford University's Justice Advocacy Project published this week shows that early release of large numbers of prisoners does not increase crime rates, as critics feared.
"In the long term, this reallocation of resources should significantly improve public safety," says project co-founder Michael Romano, acknowledging those concerns in a release. According to the report, the recidivism rate of early-release prisoners is low — even lower than the rate of prisoners released according to schedule.
The report is the first to describe the effects of early prison release, and though the movement to release unjustly incarcerated prisoners is gaining traction, it's still not clear whether doing so is worth the risk of recidivism and increased violence.
Despite these fears, in 2014 Californians approved Proposition 47, which redefined punishments for several nonviolent offense, making 13,000 prisoners eligible for early release. In October, President Barack Obama did his part in reducing the country's immense prisoner population, by granting early release to more than 6,000 inmates.
In addition to giving a second chance to prisoners slapped with needlessly harsh punishments — many of them were non-violent drug users handed excessively harsh sentences during the hard-drug heyday — the early release strategy also frees up resources to implement programs to stop people from going to jail in the first place. Programs focused on truancy and dropout prevention, victim services, and mental health and drug abuse treatment, Romano says, should take priority over incarceration.
Meanwhile, the U.S. Sentencing Commission estimated in early October that about, 8,550 prisoners will become eligible for release between this past November 1 and November 2016.