San Diego Gunman Arrested
San Diego Police captured an alleged gunman. Social media is there to tell the tale.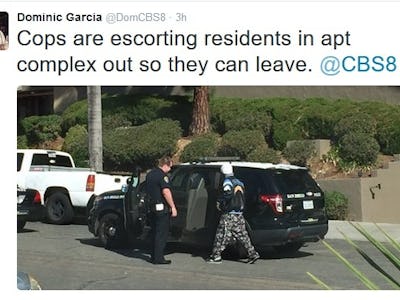 @DomCBS8
Police have arrested an alleged gunman who, for a short time, inadvertently shut down landings at a major metropolitan airport.
Identified by San Diego Police as 33-year-old Titus Colbert, Colbert was taken into custody at approximately 2:30 p.m. PST after a period of negotiation. However, before his arrest, the suspect allegedly aimed and fired a high-powered rifle at San Diego police officers originally responding to a report of domestic violence at the location (2445 Brant Street, in San Diego's Bankers Hill section).
San Diego FOX affiliate KSWB-TV reporter Sharon Chen reported multiple gunshots were heard between 10:10 a.m.-2 p.m., and that police confirmed the suspect allegedly fired a gun in arbitrary directions.
As it turns out, the site of the incident is less than two miles from San Diego International Airport, and under the airport's approach path, which led to the temporary suspension of landings, due to the danger posed by gunfire. San Diego Airport tweeted:
Media coverage was heavy, including live tweeting by CBS affiliate KFMB‑TV reporter Dominic Garcia. An example:
Garcia's coverage was apparently too intense for San Diego Police, who specifically called him out on Twitter, asking him not to reveal the positions of officers on the scene:
As for Colbert, it should be noted that he may have possibly revealed possession of a firearm in the past, as this photo previously posted to his Facebook page (June 26, 2014) potentially discloses:
Although not entirely visible, the item tucked into Mr. Colbert's waistband resembles what could be a weapon.
KFMB‑TV reporter Shannon Handy has since tweeted an arrest photo of the suspect:
She has further reported that the apartment where the incident took place does not belong to the suspect, but to his ex-girlfriend, who Handy has tweeted "got out ok."