U.S. Official Claims ISIS Bomb Brought Down Russian Plane
There's been much speculation regarding whether or not mechanical failures or terrorism brought down the Russian Air Bus, but U.S. officials think they know the reason for the crash. 
by Sam Blum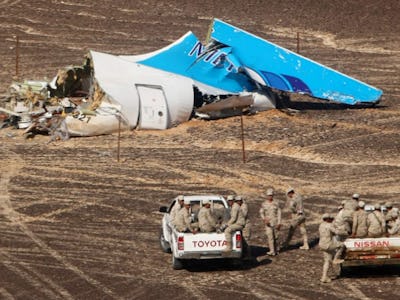 U.S. intelligence officials said on Tuesday that Metrojet Flight 9268 was likely brought down by an explosive device from on board the plane.
An official familiar with the investigation says that the bomb was probably planted by ISIS or an ISIS affiliate based in Egypt, which caused it to disintegrate in midair last weekend.
"There is a definite feeling it was an explosive device planted in luggage or somewhere on the plane," the official told CNN.
The official noted this, while at the same time making clear that no definitive reason for the crash has been determined, and that investigators are still weighing other possibilities.
Meanwhile, officials in the United Kingdom have been given pause by U.S. intelligence reports, and many British and Irish airlines have suspended flying to and from Sharm el-Sheikh airport in Egypt.
"While the investigation is still ongoing, we cannot say categorically why the Russian jet crashed," the UK Prime Minister's office said in a statement.
"But as more information has come to light, we have become concerned that the plane may well have been brought down by an explosive device."
White House spokesperson Josh Earnest has said the Federal Aviation Administration has long warned American pilots of passenger and cargo planes to be wary of flying over the Sinai Peninsula, but so far no U.S. commercial flights have been suspended flying over the region in the wake of last weekend's crash.
Metrojet Flight 9268 was carrying 224 passengers from Sharm el Sheikh airport in Egypt to St. Petersburg, Russia when it suddenly disintegrated in mid-air, 23 minutes after take off. Russian news agency Interfax, reported that normal conversation between the plane's pilot staff ensued before an "emergency situation occurred on board unexpectedly," as per an Associated Press report.
On Tuesday, a U.S. official disclosed that a "heat-flash" was detected on the floor of the Sinai Desert around the time of the plane's crash last weekend, in what largely presaged today's news of a bomb causing the disaster
None of Flight 9268's 224 passengers survived the catastrophe.