You're Not Crazy, Hilton Probably Is Blocking Guest Wifi
The FCC is threatening big fines if the chain doesn't turn over information to a federal investigation.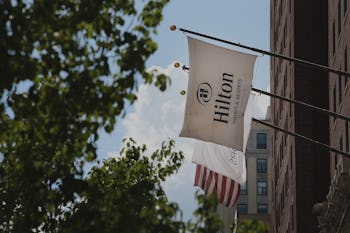 Getty
Have you ever found yourself in a Hilton and thought, "For a hotel with four Yelp stars, the Wifi here sucks." Turns out it may not have been an isolated glitch. The FCC announced Monday it was fining the chain for refusing to comply with an investigation into blocking guests' connections.
It's too late for Aigner Shadea, though:
Here's the background from the FCC press release:
In August 2014, the Commission received an initial consumer complaint alleging that the Hilton in Anaheim, California blocked visitors' Wi-Fi hot spots unless those consumers paid a $500 fee to access Hilton's Wi-Fi. The Commission has also received Wi-Fi blocking complaints involving other Hilton properties. In November 2014, the Bureau issued Hilton a letter of inquiry seeking information concerning basic company information, relevant corporate policies, and specifics regarding Wi-Fi management practices at Hilton-brand properties in the United States. After nearly one year, Hilton has failed to provide the requested information for the vast majority of its properties. Hilton operates several brands, including Hilton, Conrad, DoubleTree, Embassy Suites, and Waldorf Astoria properties.
Joel Kelly would likely agree:
The initial suggested fine is only $25,000, but it could go higher if Hilton still refuses to turn over information about its wifi management.
This follows a fine of $600,000 in October, 2014 to Marriot International for a similarly shady blocking, and an August 2015 fine of $750,000 to Smart City.
Most selective wifi jamming is done by intercepting the authentication communication between your device and the network. The system gets the authentication packet but only sends a deauthentication packet back to your device, resulting in your computer telling your it's 'trying to connect' ad infinitum.
Breezu$ may be inclined to agree with the stiff penalty suggested: