Do We Have the Boating Industry to Thank for a Better Electric Grill?
The winter grilling revolution is coming.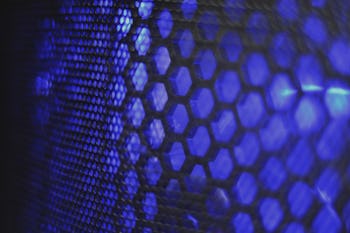 Kenyon
Is the nip in the air already dimming your visions of scorched meat and roasted kebabs? Tell me, have you slipped the cover over your grill, extinguishing the hopes, dreams, and flavor profiles only summer can yield? Back up that trudge, son. Plenty of companies have electric models that can be used inside. And, now, they're fighting to show that this ain't yo' mama's weak-sauce George Foreman. I spoke to Mike Williams, product specialist at Kenyon, about its Revolution Grill. These folks are hell bent on extending summer through the -embers and -uarys on your calendar. So, pop on some swimsuits and grab a cold one. We're about to do what humans do best: Defy nature.
"Kenyon started out as a marine-oriented supply company in 1931 and over the course of the company's history, we've evolved with the needs of the marine industry to provide products that were both innovative and safe for use on boats," Williams tells me from his Clinton, Connecticut office. "Around 2008, the need for a safe grill was identified. So we began developing our line of grills. This leads us to today with our newest products — which include the Revolution Grill — that have the innovation and safety requirements of the marine industry but are now available for people that live in condos, apartments, or any place where an open- flame grill is not safe for use."
Williams, citing Weber and Char-Broil, says Kenyon has marketplace rivals, but he points out that indoor grilling is facing its steep climb with preconceived notions. "The biggest competition is changing the way people think of an electric grill," he says. "Because they have historically gotten a bad rap as a fake grill."
I can vouch for that. Who wants the grey meat that the Foreman hooked up in the college days? Not I. So, what's the tech behind a better electric grill? Mike Williams, preach:
The development of our grills was meant to provide the marine industry with a grill that would not catch fire on the boat. So, we identified what could cause smoke or flare-ups on an electric grill, and that proved to be the heating element — which is similar to those in electric ovens. They glow red when they get hot and when grease from food hits that hot element, smoke is very easily caused; flare-ups can occur. So — having discovered this — and realizing that all of the competition has a gap of one-half to 2 inches between the heating element and the actual cooking surface, we removed the gap between the two. We were able to remove this gap by creating a channel on the bottom of the cooking grate, which allows the grate to rest directly and securely on top of the element. By doing this, we actually achieved two benefits: Removing the chance of grease hitting the element and eliminating heat loss — which allows for more efficient use of the power, and faster grilling. Because of this patented design, our grills are the only grills on the market — of any kind — that are UL-listed for indoor and outdoor use.
You've seen that UL certification before. You want it in your life and in your kitchen. Now, besides a down parka, you know what to ask for for Christmas. You're welcome.