Threesomes Should Be the New Love Triangles 
The 'Suicide Squad' love triangle owes to Buffy, Angel, and Spike, Katniss, Peeta, and Gale, and more. Let's evolve.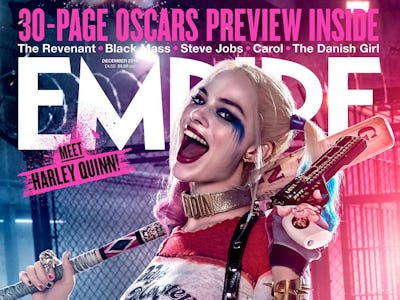 As the Greeks basically invented the triangle, of course their gods would add love to it. For instance: Should Zeus go with that one Spring goddess sister or his other sister? Once pioneered, that drama never really got old. Would Guinevere prefer Arthur or Lancelot? Is Hamlet better with Ophelia or Horatio? Scarlett O'Hara had her choice of Ashley Wilkes or Rhett Butler. Buffy had Angel and Spike. Jon Snow has been dead and not dead.
The list goes on infinitely, because love triangles stir drama and tension, which are essential to telling stories. They also niftily ensure that stories delivered in serial formats remain relevant between seasons or sequels, thanks to the heated fan debates love triangles provoke. Because if you think Buffy belongs with Angel instead of Spike, you're totally delusional and we're never speaking again.
But with the new information that next summer's big superhero movie Suicide Squad will be joining the love triangle bandwagon, pairing Harley Quinn with the Joker and Deadshot, it's time to pause and reconsider this whole love-triangle thing. They had a good run, but now it's getting a little ridiculous. So here's a new proposition: threesomes. Here's why.
Slut-shaming is lame.
Love triangles are all about the slut-shaming (of both men and women). After all, how can someone possibly be attracted to more than one person — what kind of monster are they? The 1998 film Pleasantville examines this in an exaggerated way, by having its wholesome '50s sitcom characters physically transform from black-and-white to color when they experience a sexual awakening. Below, Joan Allen's character has turned colored after falling in love with someone who isn't her husband.
The film ends (spoiler alert) in a curious manner: instead of resolving the love triangle between Joan Allen's character, her husband, and her lover, the three of them are shown sitting side by side wearing amused smiles. It's not so much love triangle as threesomes. A threesome doesn't have to skew porny to qualify, it merely needs to acknowledge that humans are complicated creatures who, shockingly enough, have the capacity to love more than one person.
They're often a lazy shortcut to drama.
The third installment to the Hunger Games franchise, Mockingjay Part 1, was essentially about nothing, as its Honest Trailer points out. This was because the book was not substantial enough to be divided into two movies, and to distract the audience from the fact that nothing was happening, they threw in some arbitrary drama in the form of Gale (Liam Hemsworth) throwing a hissy fit over Katniss (Jennifer Lawrence) and her inability to definitively declare her feelings for him.
And sure, this was pretty much the only drama in this plodding movie. Know what would have been better? Actual drama. Katniss doesn't have time to pick between guys because she's got too many other things going on — and if the character doesn't have the time, the script shouldn't either. If Gale and Peeta both just realized this girl has a lot on her plate, many needless plot points would be resolved and two plodding, mediocre movies could be one tight epic.
They're rarely resolved in a satisfying way.
Love triangles necessarily create factions, so using them to stir arbitrary drama usually winds up pissing off a lot of fans. When your story relies too much on staying poised at the fulcrum of a love-triangle seesaw, the story is naturally going to be compromised when you tip it to one side. Twilight author Stephenie Meyer, to pick one egregious example, wasn't even trying to pretend she knew how to dig herself out of the love-triangle hole she got herself into. Her fix? Have one guy fall in love with a baby. Problem solved!
Twilight might not be the best example — though it is the most hilarious — because that was never going to resolve thoughtfully. But The Hunger Games falls into the same trap by forcing its protagonist's hand. Mockingjay Part 2 spoiler for non-book readers: If one guy blows up her sister, the decision is made for her! God forbid she actually gets to pick.
But in threesomes, the author can stop feeling pressured to throw in a last-minute half-baked plot point to resolve the love-triangle hole they've dug for themselves. As Joss Whedon realized, you can let a character outright say they're cookie dough that's not ready to be baked yet and that's okay. The Buffy-Angel-Spike dynamic counts as a threesome not because they get up to any X-rated shenanigans, but because Joss Whedon let human emotion and its infinite complexities reign — he didn't give a fuck about simplifying it.
Ultimately, if Suicide Squad pouts and agonizes over which guy to choose, it risks undercutting its drama. If Buffy didn't have time for it, Harley Quinn shouldn't either. Writer and Director David Ayer has said that other superhero movies bore him because "all these movies are about defeating the evil alien robot from fucking Planet X, before it destroys the world with its ticking clock. And who the fuck cares? But you do a story about struggle and isolation … that's not so bad." Ayer should follow his own advice and realize that love triangles are a big "who cares." Threesomes have to be the future of gratifying drama. We're all in this together.