Tidal Launches Original Programming with Comedy and Drama 
They couldn't make expensive streaming music work, so why not TV?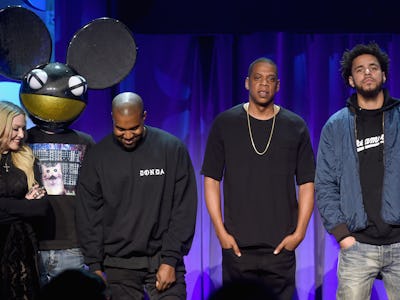 Getty Images
Tidal hopes that original programming will lure more people to its quickly sinking music subscription service.
Launched by Jay Z with a bevy of like-minded musicians a year ago, Tidal was met with criticisms about its high price point and exclusivity.
Following a CEO reshuffling and a series of layoffs, many have labeled Tidal — which charges users $20 for its music service — as a big flop. But to combat the bad press, the service just announced that they will move into producing original programming content starting with two new series.
The Brooklyn-set drama Money & Violence — featuring a title that's a little too on the nose — will be set to debut on Tidal in January. It chronicles a group of thieves and drug dealers living in the Flatbush neighborhood of Brooklyn. The subscription service will produce the 12-episode second season of the series, which first bowed for free on YouTube in a self-funded first season last year. Season 2 will be exclusive to Tidal for a week before it will debut on other services. Tidal will also stream the first season and include incentives like episode commentaries.
Episodes of No Small Talk, a reality show hosted by DJ Cipha Sounds that profiles three new comedians each week at New York's Comedy Cellar, will be released on November 3.
Variety reports that Tidal has more original content still to be announced on top of the thousands of music videos it already offers. But are these two series enough to get people interested in signing up? You could say that this move into original programming is Tidal just trying new things, since Jay Z insists on not making it go away. But really it just seems like the premium subscription service desperately trying to stay relevant by offering cut-rate shows as their first foray into original programming.