Why Did Lil B Diss The Weeknd?
Moving away from athlete curses, the BasedGod puts a pox on the House of Abel with new song "4 Tha Record."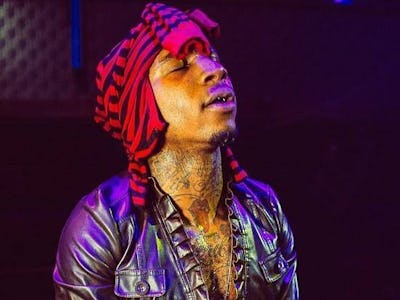 Facebook
Last night, Berkeley mixtape rap icon and noted meme Lil B posted a new music video to his dense YouTube channel. The track, "4 Tha Record," was littered with kiss-offs to Abel Tesfaye — a.k.a. The Weeknd, for some reason. "A lot of suckas fake, so I can't respect it/ Fuck The Weeknd, put that on record," the song's chorus concludes.
Lil B's value set is — historically — contradictory. He splits his time delivering a never-ending stream of social media platitudes, crying in pet stores, and unleashing a fierce anger when he (usually rightfully) feels he's been swaggerjacked. The chief culprits to that end have been, surprisingly, more athletes than musicians — beware, those who do the BasedGod-patented cooking dance in celebration on the court!
It's a bit unclear how Abel broke the BasedGod's code, but some old tweets offer some hypotheses. The earliest evidence (located by Pitchfork) was this late 2014 tweet, which seems to drag both the Weeknd and perhaps iLoveMakonnen among with him — a rapper who certainly has cribbed heavily from B's style.
A month later, the rapper made his objections to Tesfaye more explicit, though he harped more on the Tyga issue at the time:
These days, the Weeknd's "The Hills" has been riding the top of the Hot 100 for a while, and his album is one of the most successful R&B releases of the year. It's very much like the BasedGod to take down his enemies when they are at the height of their powers. When Lil B feels like someone is imitating his style, showing mercy is off the table.
The Weeknd's career — up until his recent Top 40 makeover with his new album, Beauty Behind the Madness — has been based on riding dense reverb clouds, ethereal synths, and pseudo-trap beats, a lane which Lil B inhabited before him. You may not hear any Based-ness in Abel's present-day, MJ-esque work, but the je ne sais quoi — in B's mind — remains. As he adlibs toward the end of the track: "I don't give a fuck if you singing, I don't give a fuck if you rappin'/If you stealing swag, you stealing swag."
Lil B's highly anticipated upcoming mixtape (he's been advertising it for almost a year) is called Thugged Out Pissed Off. "4 Tha Record" is certainly that — he's even flipping a beat from misanthropic horrorcore rap icon Brotha Lynch Hung! If the rest of the mixtape is on "4 Tha Record"'s level, it might be B's most hardcore to date.