"I'll Show You": Another Skrillex Collab for Justin Bieber, Another Step Toward Album of the Year
Justin Bieber and Skrillex are out for blood.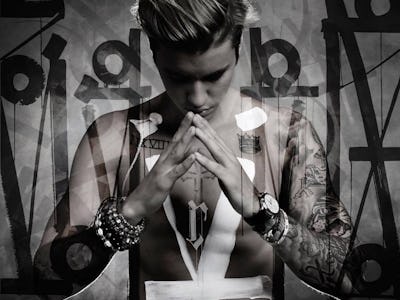 Facebook
It's likely that this year's greatest pop album will touch down well into the fourth quarter, so schedule your year-end lists accordingly, publications. Justin Bieber's Purpose is up for preorder on iTunes, and we're now less than two weeks away from D-Day: November 13th.
How did we get here? If you had told me even a year ago the all-ages, music listening public at large would be waiting with such bated breath for the new Justin Bieber album, I wouldn't have believed you.
When Justin Bieber's collaboration with Diplo and Skrillex as Jack Ü — "Where Are Ü Now?" — materialized in June, it seemed like a one-off experiment: Even the three artists painted in that way. Yet for many, it was unquestionably Bieber's best song to date, as well as offering an appealing model for what EDM in the age of "tropical house" could make happen on the grandest possible scale. "Where are Ü Now?" became a Top 10 hit for Jack Ü on the Hot 100, facilitating a definitive crossover for Skrillex from his normal home on the dance music charts.
With this month's release of the Skrillex-produced "Sorry" and today's loosie "I'll Show You," it's clear that "Where Are Ü Now"'s oddball club/pop amalgam was no accident. In fact, the sound might be crucial to Bieber's new album as a whole. Bieber's recent #1 "What Do You Mean" was not a Skrillex production, but was nonetheless heavily trop-house-influenced, and dominated by a lithe, nu-EDM synth line weaving between Bieber's vocals in the chorus.
The Skrillex-helmed "I'll Show You" is a bit of a detour from the bright melodies and lightly treading percussion of "What Do You Mean" and "Sorry," the album's last two smash singles, returning to the down-tempo trap&B that Bieber experimented with on his 2013 release Journals. However, it has the same breathily inviting quality of the recent leaks, and it is propelled by some idiomatically Skrillex vocal-glitch synths that tie in with the techniques used on "Sorry" and "Where Are Ü Now?"
This bodes well for Bieber's album to maintain the wistful electronic textures that have captured the public imagination in the past few months. With all of his recent songs flirting with top-of-the-chart placement, it's clear that a full album of this is what the world wants, and what pop music needs.