The Coolest Nerdtastic Costumes Seen Across the World on Public Transportation
Aliens have to commute, too.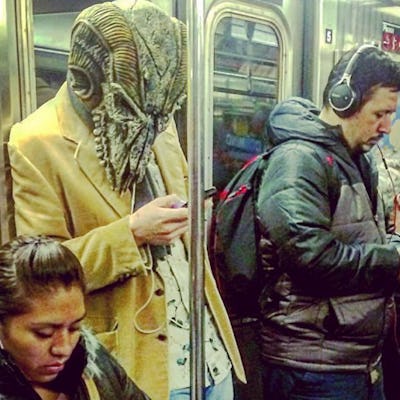 Every year, Halloween fills the streets with millions of people dressed up and ready to show off their costumes. But they've got to get to their parties somehow, and sometimes it's easier to hop on the subway than it is trying to navigate Uber's horrendous surge pricing. Plus, it's another excuse to flaunt those disguises. (Even more entertaining than the people in alien masks and zombie makeup are the folks in regular clothes, trying their hardest to just get from point A to point B without letting these costume-clad weirdos affect their commute.)
Here are a just a few of the most memorable costumes we saw on public transportation around the world — from a joyous emoji and double Marty McFlys to a killer Edward Scissorhands and plenty of storm troopers.
New York
Chicago
Paris
London