64,000 People Are Watching a Bob Ross Marathon on Twitch
Bob Ross may no longer be with us, but The Joy of Painting lives on!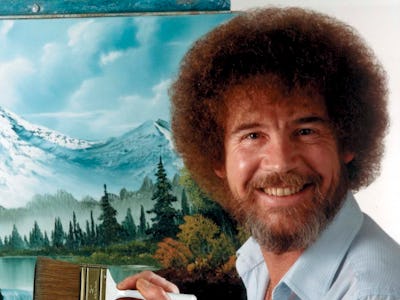 Bob Ross Inc./The Joy of Painting
"You can do anything you want to do in this world. Anything you want to do."
Bob Ross, the folk hero of oil painting, always knew just to say on The Joy of Painting, the half-hour program that aired 403 episodes from 1983 to 1994 on PBS. His smooth, soothing instructions on where to put paint on the canvas always came with a side of hippie wisdom. His trees — and his accidents — were always happy.
"You can't have light without the dark. It's just like life, you can't have happiness without a little bit of sorrow."
I gathered these quotes within the first two minutes of tuning in to an eight-day-long Bob Ross marathon, currently being hosted on Twitch.
The work of Ross, who passed away from lymphoma in 1995, is riding a new wave of popularity online: As of Friday afternoon 64,000 people were watching the Twitch marathon, and 840,000 had tuned in at some point since the stream began the day before.
Bob Ross would have turned 73 on October 29.
Twitch's initiative marks the debut of Twitch Creative, a platform for artists and musicians to share their creative process live with an online audience.
Although it grew up as a tool for live-streaming video games, some users had already been using Twitch for other creative pursuits, explains Twitch spokesperson Chase in an email to Inverse. This new initiative gives a formal space to that community.
Bob Ross was sharing his creative process in real time long before Twitch was a thing, says Chase. "While showing his passion for painting, he would talk viewers through the process and interact with them as if they were in the studio with him. This is exactly the kind of thing we're looking for with Twitch Creative."
Some fans are sharing their own Bob Ross-inspired creations online, though not all are following the precise instructions when it comes to materials and technique. Bob wouldn't want it any other way: