Cool Dad Turns Son's Wheelchair Into 'Star Wars' Snowspeeder for Halloween
Last year he turned it into Captain America's motorcycle.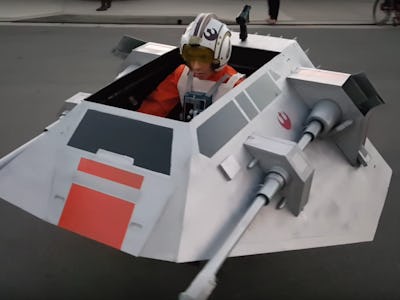 YouTube
We have a winner for best Halloween costume of the year, and it isn't even Halloween yet. Awesome dad Ryan Scott Miller transformed his 8-year-old son Jeremy's wheelchair into a Rebel Alliance snowspeeder for the holiday.
Jeremy has spina bifida, a congenital defect of the spine that renders him wheelchair bound, but that doesn't stop him (and his dad) from making the best of it. He's decked out in the appropriate Rebel pilot outfit, with the yellow-tinted helmet and even the orange jumpsuit seen in The Empire Strikes Back.
Miller and his dad previously outfitted the chair as Captain America's motorcycle seen in the Marvel movies, and, in an interview Miller gave to CNET, he mentions previous wheelchair mods for his son that include a TIE fighter, a pirate ship, and an electric parade float.
About the current mod, Miller told CNET, "I was a huge Star Wars fan as a kid and I would have loved to have something like this, so it makes me giddy-happy to see my son so happy and excited in it." Great dad, or greatest dad?
The wheelchair snowspeeder even has the retractable air vents seen in the movie, and its side cannons fire Nerf darts. There's even the grappling gun outfitted on the back so Jeremy can take down any errant Imperial AT-ATs while he's trick-or-treating. Our only Star Wars geek gripe, though, is that snowspeeders were meant to have two pilots, not one. But we'll overlook that minor detail.
The snowspeeder is one of the best we've seen in the recent trend of pop culture-heavy Halloween costumes on kids. This video of a wheelchair outfitted as Toothless from How to Train Your Dragon is a great one, and we can't help but mention this child-sized Back to the Future DeLorean because it's ridiculously cool.
We're all for other kids' efforts at making a cool costume for Halloween this year, but give this kid all the candy, right now.